A brief history of tiramisu
on
January 4, 2014
at
9:35 am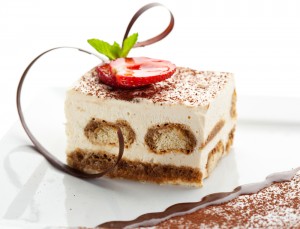 No doubt you're very familiar with this coffee-flavoured dessert, which features on countless restaurant menus worldwide.  You probably also know that, like zabaglione and gelato, the sweet is Italian in origin. But did you know that tiramisu is from the environs of Venice?
There is some dispute over who exactly came up with the desert. Some say it was head chef Carminantonio Iannaccone in Via Sottotreviso in 1969; some say it was chef Ada Campeol  of the restaurant Alle Beccherie; some say it was baker Roberto Linguanotto and apprentice Francesca Valori two years earlier. But what is certain is that tiramisu was first created in Treviso, a city in Veneto, near Venice.
The literal translation of  tiramisu is 'pick me up'. Ada Campeol said that she invented the recipe when she was looking for instant energy while she breastfed her first child, hence the calorific ingredients: ladyfingers (known as Savoiardi in Italy) soaked in espresso and then layered in a dish with a sweet and delicious mixture of eggs, sugar and mascarpone cheese, dusted with fine cocoa powder.
The Italians first took the recipe to heart, and hundreds of adaptations appeared, and then it was taken on worldwide. Today, there is even a World Tiramisu Day, on 17 January, when cooks across the globe compete to make the best version of the dessert as part of  the International Day of Italian Cuisine.
So many recipes exist for tiramisu; I've put together some of my favourites for you:
Enjoy!