on
September 25, 2017
at
9:00 am
Seville, capital of Andalusia, setting of my romantic trilogy: Indiscretion, Masquerade and Legacy. On the map for its rich historical and cultural sites, like the Alcázar palace complex and the Cathedral, and for one artistic field in particular: religious sculpture.
I first encountered the Sevillian school of sculpture in the Museum of Fine Arts of Seville, with this depiction of Saint Jerome (c. 1528):
[Source: Anual]
Have you ever been in an art gallery, and it is like time stands still; you are so astonished and awed by a work that the world around recedes? That is how I felt before Saint Jerome Penitent. The terracotta sculpture, made by Italian sculptor Pietro Torrigiano, is astoundingly realistic and expressive.
Torrigiano was not, in fact, Spanish; he was Italian, of the Florentine school – and famously a rival of Michelangelo's. After he broke the latter's nose in a fight, Torrigiano wasn't too welcome in Italy, so he decamped to Spain, where, in Seville, the style of sculpture being worked in the city inspired him.
The Sevillian school of sculpture, as it is known, dates back to the 13th century, and is focused on creating lifelike depictions of key figures in the Christian religion. In the 16th century, the Spanish mystic Saint John of the Cross declared that sculpture was a necessity: "to inspire reverence for the saints, to move the will, and to awaken devotion" (source: National Gallery). Thus beautiful sculptures were created for places like monasteries, cathedrals and tombs, and also for pasos, processional floats of Biblical scenes used in Seville's Holy Week festival – which I have seen in person and can attest are absolutely beautiful.
What really sets the sculptures apart is how lifelike they are. The most important and influential sculptor of the school, Juan Martínez Montañés, popularised a technique called encarnación, which translates to incarnation – literally, bringing to life.
 "Not everyone who can hew a block of wood is able to carve an image; nor is everyone who can carve it able to outline and polish it; nor is he that can polish it able to paint it…"
So said Saint John of the Cross. Indeed, it takes a great deal of skill – and work – to create one of these sculptures. Wood is the first-choice material, carved intricately and then covered with 'gesso', composed of animal glue, chalk and white pigment. The sculpture is then left to dry for up to half a year, before the encarnación can begin: painting, varnishing and sanding, often over and over to achieve the desired effect.
Here is Juan Martínez Montañés' depiction of Saint John the Baptist. It was created in the early 17th century, but the encarnación really has stood the test of time.
[Source: Metropolitan Museum of Art, New York]
Have you visited the Prado art museum in Madrid? It is one of my favourite places on the planet. Not only is the building itself beautiful, but it houses some of the most important and awe-inspiring artworks in the world.
The museum was commissioned in the late 18th century by Charles III for the natural history cabinet, but his grandson, Ferdinand VII, reimagined it as a royal museum showing off the crown's vast art collection, to put Spanish art on the world map. It was opened to the public as the Royal Museum in 1819, and renamed the Museo del Prado by Isabella II in 1868. Art acquisitions continued apace as the years went by, so that since the early 20th century the museum has seen several expansion projects. Today, it is widely considered to hold one of the greatest collections of European art in the world, totalling some 8,200 drawings, 7,600 paintings, 4,800 prints and 1,000 sculptures. At the heart of these is the royal collection.
The museum features works by many important artists. For this article I've chosen just five out of so many pieces that are 'must-see' artworks. To view the full collection in detail, you can visit the museum online: https://www.museodelprado.es/en.
1. The Garden of Earthly Delights by Hieronymus Bosch (1490–1500)
Hieronymus Bosch was a Dutch painter of the Early Netherlandish painting school. He painted wonderfully detailed works that are rich in imagery, often from religious inspirations. The Garden of Earthly Delights is a triptych (a painting divided into three hinged sections; the outer two can be folded like shutters over the core painting). It is painted in oils on oak wood and depicts the Creation. On the left is Adam and Eve, in the centre a fantastical scene of people and creatures, and on the right a portrayal of damnation.
2. Knight with His Hand on His Breast by El Greco (1580)
Doménikos Theotokópoulos, known as El Greco (meaning The Greek), was a key figure in the Spanish Renaissance, a painter, a sculptor and an architect. He was born in Crete, but settled in Toledo, Spain, where he produced unique, dramatic artworks that would later inspire artists of the Expressionist and Cubist movements. Knight with His Hand on His Breast (also translated as Gentleman or Nobleman) is one of a series of El Greco paintings of noblemen in which the model is unknown. Some art historians believe this is in fact a self-portrait. For me, the hand on the breast speaks volumes – it creates emotion in the onlooker.
3. Las Meninas by Diego Velázquez (1656)
This is the most famous work at the Prado, a key attraction for visitors. Velázquez was the favourite artist in the court of King Philip IV and a major figure in the Spanish Golden Age. His style has been deeply influential; Pablo Picasso and Salvador Dalí, for example, recreated some of his works. Las Meninas means The Ladies-in-Waiting, and it depicts a complicated scene at the Royal Alcazar of Madrid. There are many layers to the scene that are open to interpretation, which makes it an artwork that provokes much discussion. The painter featured within the painting is Velázquez himself.
4. The Three Graces by Peter Paul Rubens (1635)
Rubens was a hugely prolific painter, producing more than 1,400 works in his lifetime. He was Flemish, and painted in the Flemish Baroque style. I have always loved the use of colour and the sensuality in Rubens works, as in The Three Graces. His works were often inspired by Christian allegories, but here he is depicting the Graces of Greek mythology: Aglaia, meaning charm, Euphrosyne, meaning joy, and Thalia, meaning blossoming. Together, these daughters of Zeus served Aphrodite and created joie de vivre. The left-hand Grace is modelled on Rubens wife Hélène, which is perhaps why he held on to his painting until his death – just five years after its completion.
5. La Maja Desnuda and La Maja Vestida by Francisco Goya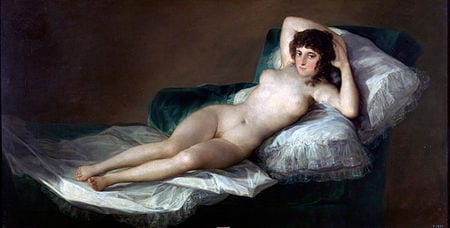 Francisco José de Goya y Lucientes was a very popular artist in his time, and ever since. His career spanned 50 years, during which he was appointed a court painter to the Spanish crown. La Maja Desnuda (The Naked Maja) was commissioned by a prime minister, who then asked for a second version of the painting in which the woman was clothed, which he could switch for the risqué one when conservative visitors came to his home. Still, the nude was discovered, and the alluring gaze of the model combined with the glimpse of her private area was most upsetting to the Church authorities. As a result, Goya was pulled before the Spanish Inquisition to explain his 'moral depravity' in painting the nude. His response, which saved him: he had emulated the Velázquez painting Venus which Philip IV had loved. Certainly, Goya was very influenced by Diego Velázquez; he said, 'I have had three masters, Nature, Velasquez, and Rembrandt.'
In my latest novel, Legacy, the love story begins when the hero and heroine cross paths in Barcelona. I very much enjoyed setting the scene in this colourful, lively city, especially because it is chock-full of works by one of my favourite architects, Antoni Gaudí.
Gaudí was a Spanish architect who lived from 1852 to 1926, and his distinctive Modernist style in architecture has been hugely influential for so many people. Here are six things that I find fascinating and inspiring about Gaudí and his work:
1. His greatest passion, besides architecture and religion (see below), was nature – mountains and caves especially. Many of his works are imbued with this love and admiration of nature, none more so than his magnum opus, the Sagrada Familia; see how the roof above the nave, shown here, looks like overarching tree branches.
2. He envisioned and planned every single tiny detail of his many big works, not on paper, but through creating intricate scale models.
3. He was absolutely dedicated to his Catholic faith, and his works are so beautiful and reverent that some have named him 'God's architect' and called from him to be sainted by the Pope.
4. He was a serious man, and yet not without a playful side. His buildings are often quirky, colourful and eye-catching. Here's one of the most iconic Gaudí symbols, the salamander sculpture in Park Güell.
5. He fused all sorts of crafts into his architecture, from ceramics to stained glass. The Casa Batlló is a wonderful example; Gaudí pioneered the mosaic work on the exterior, made from broken ceramic tiles, which is called trencadís.
[Sources: Alscardoso, Mstyslav Chernov, Massimo Catarinella]
6. He was not afraid to dream big. His vision for the Sagrada Familia, a huge church in Barcelona, was so vast that builders are still constructing the church based on his plans. The finish date, it is hoped, will be the one-hundred-year anniversary of Gaudí's death.
Readers of my Andalucían Nights series will spot an important homage to Gaudí's style. In Legacy, my heroine Luna comes to live in Cadiz in a house that was inspired by a major Andalucían avant-garde architect and Surrealist artist, Eduardo Rafael Ruiz de Salazar. The house, which is right on the beach, is called La Gaviota, meaning The Seagull, and it is designed to look like a bird:
It was a small, two-storey, unusual-looking building with whitewashed walls, interspersed with floor-to-ceiling sliding windows, a domed roof and three terraces. The one at ground level led down to the beach, while the two on the upper floor jutted out on the north-east and south-east sides of the house, like wings of a giant bird about to take flight.
Over the years, La Gaviota has been a haven for artists and writers, who find inspiration in the arresting architecture and the beautiful sea views. Luna, too, finds this home to be a haven, a place where she can free her mind and explore her past and future – a place where her dreams can take flight.
When I envision La Gaviota, there is a good deal of Gaudí in the design. Especially, my mind takes me back to a hot summer's afternoon when I visited Park Güell on Carmel Hill in Barcelona, which is all Gaudí's design. The colours, the lines, the creativity, the boldness, the beauty – it is all so wonderfully evocative; like something out of a romance novel, n'est-ce pas?
For me, Gaudí's work is the perfect exemplification of Goethe's wisdom:
Whatever you can do or dream you can, begin it;
Boldness has genius, power, and magic in it.
Persephone has returned from the underworld, heralding the return of spring: daffodils and snowdrops, blue skies and warming sunshine, longer days and milder nights – spring has sprung!
There is such a feeling of hope in the air, of the promise of rebirth and growth and discovery. As Emily Dickinson wrote, 'A light exists in spring.'
A light exists in spring… this line has often been on my mind, for the heroine of my latest novel, Legacy, is named Luz (Spanish for light) and her story begins in the spring.
The preceding novels in the Andalusian Nights series are set in the summer: hot and sultry. But for Legacy I wanted to lead in to that Spanish heat. Spring was the perfect season for the opening of the book because of its symbolism. Luz is embarking on a new journey of discovery, learning about the beautiful country and its passionate people, and along the way she herself blossoms into a sensual woman.
Blossom: there is another inspiration for the book. Are you familiar with Vincent Van Gogh's Almond Blossoms paintings? Here is Almond Blossom, 1890.
When he arrived in Arles in March 1888, Van Gogh was so inspired by the fruit trees in the orchards that he painted them every single day for a fortnight and felt somewhat bereft when they were finished flowering. Two years later he painted this artwork, Almond Blossom, as a celebration of new life: it was for his new baby nephew.
I love the serenity of this artwork, the dreamy hue of the sky, the fact the onlooker is placed in the position of gazing heavenward, as if lying in soft grass under the tree, daydreaming. Most of all I love the blossom: fresh, virginal – and delicate.
There is something so delicate about blossom, and precious too, due to its ephemeral nature. Rather like first love, don't you think? In Legacy, 'blossom' is a word I associate with Luz's developing sensuality; her need for Ruy is blossoming. But that need is delicate and fragile, and it must be carefully nurtured if it is not to be fleeting like the blossom on the trees in spring – or indeed like spring itself, which passes, as Emily Dickinson writes, and leaves us with 'a quality of loss'.
In a place as beautiful as Cadiz, Andalusia, however, there need be no loss when the spring has passed. There, in the 'city of light', the summer is long and heady – all the light that exists in spring can exist in summer too for Luz… if she only opens her heart to it.
Would you like to read Legacy? I have a limited number of books available for reviewers, so do let me know if you'd like to read the book in exchange for posting an honest review on Amazon.
The following description is from my Spanish-set novel Indiscretion:
At La Linea, just outside Gibraltar, where she had arrived by passenger ship, she had found a train heading north, up the coast to Puerto de Santa Maria, via Cadiz. Coming face to face with the trenmixto, Alexandra had momentarily been tempted to switch to the more civilised and comfortable rápido. The carriages of the passenger and freight train had been stuffed to bursting with baskets of clucking hens, men whistling and shouting to each other, women with luggage and paraphernalia piled high against the windows, and even the odd goat or two; but after taking a deep breath, she struggled with her cases into the hot and stuffy compartment and gamely squeezed herself into an empty seat next to an elderly woman.
The train had high-backed wooden benches, the seating arranged in cubicles on either side of a gangway. Some of the windows were broken, and people climbed through them to grab a seat. A chattering, shouting medley of voices had filled the carriage – there was none of the usual reserved and dignified behaviour Alexandra had read about in the books about the Spanish that she'd picked up at her local library. The strange smells of food, sweat and livestock permeated the atmosphere.
Now, looking around at her fellow travellers, Alexandra made a mental note of their various characteristics, so that she might, if she wished, use them in her writing. Some were ugly as sin, with screwed-up wrinkled faces, and flabby mouths hanging open, but there were so many alert and twinkling eyes , animated by one lively expression after another. Knotted, pudgy or skinny hands gesticulated energetically with each conversation. Accompanying their mothers or grandmothers were a few young boys and girls with bright, dark eyes, red lips and olive skins that in some cases had been washed and others not. Alexandra had seen such familiar scenes and characters in dozens of Spanish paintings, and now it seemed these Goyaesque figures had come to life in front of her.
'Goyaesque.' Are you familiar with the work of Francisco Goya?
Francisco José de Goya y Lucientes(1746–1828) is one of my favourite artists, and one of the most important in Spanish art history. During his career, which spanned some fifty years, he created prolifically: paintings, etchings, frescos.
Known as a romantic artist, Goya straddled the boundary between old and new: he is seen by many as the last Old Master and the first modern artist. What is most interesting about Goya's art, as I touch upon in Indiscretion, is that it chronicled a time in history in great detail. But it also embodied sentiment. His early works are fairly joyful – for example, he painted cartoons for tapestries to hang in the royal palace. But over time Goya became, by way of his art, a social and political commentator, as in his damming depiction of the atrocities of war in a series of eighty-five prints called The Disasters of War.
Unlike many great artists, Goya's art was highly regarded during his lifetime. In 1786, aged forty, he was appointed a court painter to the Spanish crown, and he painted many portraits of prominent Spaniards in the aristocracy. By 1799 he had been given the highest ranking title for a Spanish court painter, Primer Pintor de Càmara, and he was commissioned to paint Charles IV of Spain and His Family.
Of all Goya's works, my favourites are La Maja Vestida(The Clothed Maja) and La Maja Desnuda(The Nude Maja):
La Maja Desnudawas the earlier work (1797–1800). Art historians believe it was commissioned by Prime Minister Manuel de Godoy, a womaniser who was very appreciative of nude paintings. Supposedly, La Maja Vestidawas also painted for de Godoy, and it was hung in his home on top of La Maja Desnuda in such a way that the two paintings could be swapped through a pulley system.
Why would de Godoy want to swap the works? Presumably for his own amusement, but also to conceal the nude version should it offend a visitor – for La Maja Desnuda was a controversial work in its day. The alluring gaze of the model combined with the glimpse of her private area was most upsetting to the Church authorities – and most exciting to everyone else!
But upsetting ecclesiastical authority figures in the early 1800s was unwise, as Goya found when he was pulled before the Spanish Inquisition to explain his 'moral depravity' in painting the nude. After miserable proceedings, he was cleared of the charge on the grounds that he had emulated the Velázquez paintingVenus which Philip IV had loved. Certainly, Goya was very influenced by Diego Velázquez; he said, 'I have had three masters, Nature, Velasquez, and Rembrandt.'
Goya's legacy in the art world has been immensely powerful. But he is also memorialised in Spanish culture. Back to Indiscretion:
'Ronda is the city of outlaws and bullfighters. And if you want to see a bullfight, of course Ronda is the place to be.' Ramón nudged Alexandra, offering her a flask of water. 'Needless to say, the corrida is a very important part of Spanish culture. If you're here in September, you could see the Feria Goyesca. That would be a real Spanish spectacle for your book, mi permita. Do you know Goya's paintings?'
She sipped some water and returned the bottle. 'Some. A few of his portraits in the National Gallery in London.'
'You won't have seen his bullfight paintings then. Very realistic, even today. And at the Feria Goyesca, everyone dresses in traditional eighteenth- and nineteenth-century costumes; some as toreros, others  spectators. There are parades, eating, drinking, dancing. It's all very colourful. I think it would appeal to the romantic in you, even if you didn't care to see the bullfight.'
The Ronda Feria Goyesca is dedicated to three people of importance: the 18th-century bullfighter Pedro Romero, the 20th-century bullfighter Antoñio Ordóñez, and Francisco de la Goya. Why connect the three? Pedro Romero was the grandson of Francisco, head of the Romeros of Ronda and the father of modern bullfighting, and he was a very accomplished bullfighter (some say he killed six thousand bulls!). Goya was keenly interested in all aspects of Spanish culture, but the emerging bullfighting really captured his imagination. He painted Pedro Romero's portrait, and many other scenes of corridas. As for Ordóñez, in the 1950s he decided to pay homage to Romero and Goya with a corrida to capture both the electrifying bullfighting of Romero and the colourful spectacles depicted by Goya. The result is the Ronda Feria Goyesca – well worth attending if you are in Andalucia in the first week of September.