on
March 13, 2017
at
9:00 am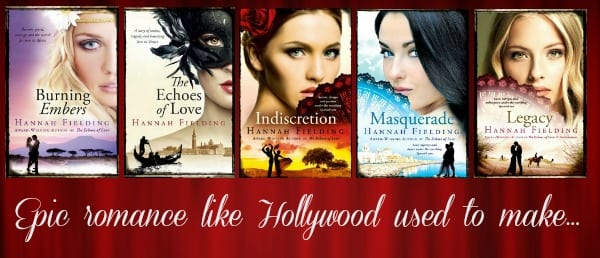 Many years ago, when I set pen to paper and wrote the first draft of what would become my debut novel, Burning Embers, I thought a lot about the setting and the story and the characters and the mood – and I thought very little about specific categorisation for the book I was writing. Genre was important in the sense that I knew I was writing romance, but I didn't drill down further and consider what type of romance I was creating; I simply wrote the book.
Fast-forward to the start of this decade, and I discovered, when I came to submit the manuscript to publishers, a whole world of categorisation of which I had been largely unaware. What kind of romance was Burning Embers? publishers wanted to know. It was easy to determine what the novel was not: fantasy or paranormal, for example. But other categorisations required consideration. Burning Embers is set in the 1970s; did that make it historical fiction or contemporary? It contains some descriptions of intimate moments; did that make it erotic?
I recall, back when I was filling in publisher forms, thinking that it would have been far easier had my book fit very neatly into one (and only one) category; that perhaps if my novel did so, my chances of securing a publishing a contract would be greatly improved.
Yet I knew this fundamental truth of writing: you must write the book that wants to be written. Not a book you think a publisher/agent/reader wants; a book that comes from you, from your soul – from the muse. As one of the most respected and influential writers of the 20th century, Franz Kafka, put it:
'Don't bend; don't water it down; don't try to make it logical; don't edit your own soul according to the fashion. Rather, follow your most intense obsessions mercilessly.'
Thus writers will always write books without much thought for categorisation. Why, then, need categorisation exist? The general idea is that categorising books into genres, and sub-genres, and sub-sub-genres, is helpful to booksellers, in presenting their wares for sale; and to readers, in browsing for books that fit their preferences. And yet it seems the difficulty of classification spills over to this end of the process as well.
Recently, I read with interest an article entitled 'A Look Inside America's First Romance and Erotica-Only Bookstore', exploring the Ripped Bodice bookshop in LA, which is run by two romance-novel-loving sisters, Bea and Leah. Given that the store specialises in romance novels, organisation of novels is by sub-genre. The main ones are historical, contemporary, paranormal and erotica, along with 'islands of other specialty sub-genres like LGBTQ, suspense, cowboys…'. But categorisation can lead to confusion, as Leah explained:
'How do you shelve a book that's lesbian vampire erotica? Does it go in the lesbian section, the vampire section, or the erotica section? These are real questions we find ourselves asking.'
Interestingly, Leah suggests that 'the nature of… digital marketplaces makes categorization there intrinsically easier than for a brick-and-mortar shop'. Certainly, I have found through working closely with my publisher, London Wall, that the many categories on the websites of retailers like Amazon allow for all manner of different ways to categorise a book. At the time of writing, for example, my Andalucían Nights series is categorised as follows on Amazon.com:
Indiscretion (Book 1): Books > Romance > Historical > 20th Century
Masquerade (Book 2): Books > Romance > Multicultural
Legacy (Book 3): Books > Romance > Contemporary
I am not sure, however, that the wide range of categories that can be applied to books is always helpful to the reader, because often one category alone does not adequately express the essence of a book. Taking a look at Amazon.com's sub-categories for romance (which, incidentally, differ from the Amazon.co.uk list), I could argue that the books of my Andalucían Nights series could fit into these categories: Multicultural, Heroes/Rich & Wealthy, Themes/Beaches, Themes/International, Themes/Love Triangle, and Themes/Workplace.
Ultimately, I am happy for my fiction be categorised in any genre that sensibly fits my writing. The Echoes of Love and Burning Embers, for example, are currently ranking in Romance but also in Literature & Fiction (Women's Fiction > Contemporary Women) on Amazon.com. I don't worry about categorisation when I write, and when I am asked 'What kind of books do you write?', I reply with what one newspaper reviewer said of my debut novel: 'Romance like Hollywood used to make.' That would make a wonderful category in itself, don't you think?
'I have always imagined that Paradise will be a kind of library.' So wrote Argentine writer Jorge Luis Borges.
How many book lovers have since taken these words to heart? Here are just a few of the gifts on offer for those who find affinity with the quotation:
(Sources: T-shirt; cushion; oak bookmark; metal bookmark; bag.)
What is paradise? According to the Oxford English Dictionary, it is:
1) (in some religions) heaven as the ultimate abode of the just
2) an ideal or idyllic place or state.
Certainly, that fits my idea of a library: cool, quiet, serene; a place of beauty and decorum full, as Thoreau put it, of 'the treasured wealth of the world'.
I have written before of my love of libraries; in my blog post 'The roots of a bibliophile: The Ancient Library of Alexandria' I shared how that love began, in my birthplace of Alexandria, home to the most significant library in history. Since leaving Egypt I have travelled widely, and wherever I go libraries are on the 'must see' list. Whenever I take a research trip for my writing, I visit the city's library, where not only can I read all about the local history and culture, but I get a feel for the spirit of the city. (In Venice, setting for The Echoes of Love, this was especially inspiring; the city has no less than seven libraries. My favourite was the Biblioteca Nazionale Marciana [National Library of St Mark's], which is in a beautiful Renaissance building that holds some of the great classical texts, including illuminated manuscripts.)
Visiting a library, in many ways, is a simple pleasure in life; but for so many of us it is a powerful one: educative, inspiring, comforting. Libraries are so important, I believe passionately that they must be preserved and open to all, like this one: the Philosophical Hall at the library of the Strahov Monastery, Prague.
The headline of a recent article in Guardian caught my eye: 'The most expensive library in the world?' Intrigued, I clicked to read the article expecting, based on the image of a sumptuously decorated library, to learn of a new library that had been expensive to open. No doubt the stunning Book Capella in St Petersburg – designed in the fashion of an ancient library, complete with tapestries, murals, sculpted woodwork, stained glass windows and religious statues – did cost a great deal to create. But in fact the article's headline was referring to the entrance fee to the library: £100 for a four-hour reading session.
This is not a public library, but a private collection owned by a publishing house spanning some 5,000 books dating from the 16th to 19th centuries – and available for purchase, we are told, for £400 and £700 each. For around £3,000, you can buy an annual pass to the library; a lifetime pass will cost you…  £69,000.
Who is willing and able to pay to access this library? According to the project's director, the library's users are academics and book collectors – and businesspeople who can afford to meet in such luxurious surroundings. The director states:
Book Capella is not a library in the traditional sense, and it is not a museum, although elements of the museum are presented. It's also not the bookstore, although you can buy our books here. [It] is a new way for people to communicate with rare books.
The motto for this 'library'? 'I have always imagined that Paradise will be a kind of library' – Jorge Luis Borges.
But is Paradise exclusive? A place only those with means can enter?
Remember Thoreau's description of books: 'the treasured wealth of the world'. That is an excerpt from this quotation from Walden:
Books are the treasured wealth of the world and the fit inheritance of generations and nations. Books, the oldest and the best, stand naturally and rightfully on the shelves of every cottage. They have no cause of their own to plead, but while they enlighten and sustain the reader his common sense will not refuse them. Their authors are a natural and irresistible aristocracy in every society, and, more than kings or emperors, exert an influence on mankind.
I wonder what Thoreau would make of Book Capella.
Are libraries important to you? Do you think we should preserve them, and ensure equal access to all? I would love to hear your thoughts.
Recently, the arts news has been full of a major comeback: that of the vinyl record. In 2016, vinyl sales in the UK reached 3.2 million, which is the highest figure for 25 years, and represents a 53 per cent increase on the previous year. Most interesting is that this surge of vinyl sales has pushed past digital downloads, making the physical, 'real' record the more popular format.
No doubt the death of several prominent artists like David Bowie in part prompted vinyl sales, as fans looked to purchase lasting mementos. But the most compelling and most resonant reasons behind the impetus to choose vinyl over digital come down to authenticity, tangibility, quality and nature of the sound, and the 'art' of music creation and listening. Listeners want to turn back time and go back to basics. Music lovers enjoy the sound of vinyl and the experience of playing on a record player, and appreciate the record and its sleeve art as an objet d'art to be treasured.
Are you connecting the dots already between music and literature? There is no denying that a parallel can be drawn between the music industry and the publishing industry. Digital in both arenas has empowered creators to seek out their own audiences, and has opened up new ways for consumers to discover music/books. However, digital has driven down prices, and in doing so it has devalued the actual, tangible art – the books and the CDs or vinyl.
Now, just as music listeners are returned to vinyl, will readers who embraced ebooks make about turns and return to print?
Back in August last year, Market Watch reported that print sales in the US were on the rise. According to US Census Bureau statistics, print sales declined from 2009, but rose 6 per cent in the first half of 2016. The Guardian in the UK reported a similar story: ebook sales falling and print rising – not remotely at the level of vinyl, but certainly notable.
Readers, authors and publishers alike were shocked last week when popular distributor AllRomanceebooks.com suddenly announced its abrupt closure, after a decade of trading. The reason cited? 'Growing concern over the state of the eBook market going into 2017' (source: Bustle).
Do you have an ereader, an iPad or a Kindle or a Kobo? Do you enjoy reading on it, or is there a (growing?) disquiet about the format? Do you feel in a pull to print – if you have the choice, do you opt for a print book in your hands over an ebook? If I gift you one of my novels, is that more meaningful and special with a paperback or hardback for your shelf, or an ebook on your device?
I would love to hear your thoughts.
Amazon.com has recently released a list of the top twenty bestselling books published in 2016, based on both print and Kindle sales. Here it is:
Harry Potter and the Cursed Child, Parts 1 & 2, Special Rehearsal Edition Scriptby J.K. Rowling, Jack Thorne and John Tiffany
When Breath Becomes Air by Paul Kalanithi
The Whistlerby John Grisham
The Last Mile (Amos Decker series)by David Baldacci
Killing the Rising Sun: How America Vanquished World War II Japanby Bill O'Reilly and Martin Dugard
Hillbilly Elegy: A Memoir of a Family and Culture in Crisisby J.D. Vance
Truly Madly Guiltyby Liane Moriarty
Night School: A Jack Reacher Novelby Lee Child
The Black Widow: Book 16 of Gabriel Allon Seriesby Daniel Silva
Diary of a Wimpy Kid # 11: Double Down by Jeff Kinney
15th Affair (Women's Murder Club)by James Patterson and Maxine Paetro
Before the Fallby Noah Hawley
Fool Me Onceby Harlan Coben
Crisis of Character: A White House Secret Service Officer Discloses His Firsthand Experience with Hillary, Bill, and How They Operateby Gary J. Byrne
The Wrong Side of Goodbye: A Harry Bosch Novel by Michael Connelly
The Magnolia Storyby Chip Gaines and Joanna Gaines
The Nestby Cynthia D'Aprix Sweeney
One with You: Book 5 of A Crossfire Seriesby Sylvia Day
The Obsessionby Nora Roberts
Everything We Keepby Kerry Lonsdale
I was not surprised to see books relating to society and politics featuring on the list, given the circumstances of the year, but I was surprised by the prevalence of dark, suspenseful thrillers and the marked absence of my favourite genre: romance.
Of these twenty bestselling titles, only three contain romance: Everything We Keep, The Obsession and One with You. Two are not exclusively romance novels; Nora Roberts' and Kerry Londsale's books straddle the women's fiction and suspense genres. Sylvia Day's novel is a romance, and it is interesting that her brand of seduction mingled with poignancy has made her the only romance writer to make this chart.
Overall, statistics indicate that romance is best-selling genre in fiction (source: the BBC). So if Amazon's 2016 bestselling books list encompassed all books purchased this year (but not necessarily published this year) then we could expect to see more romance books in the list. But of the books published in 2016, clearly the romance genre was eclipsed by thrillers.
I wonder why this is the case. Are we in dark times, and seeking answers in dark books? Is it easier to read a 'quick-grab' thriller than a romance novel? Have romance readers read more thrillers than romances this year? Is romance somewhat out of vogue?
According to the Romance Writers of America, the subgenres of the romance genre break down as follows in terms of share of sales:
Print: romantic suspense (53%); contemporary romance (41%); historical romance (34%); erotic romance (33%); New Adult (26%); paranormal romance (19%); Young Adult romance (18%); and Christian romance (17%).
E-book: romantic suspense (48%); contemporary romance (44%); erotic romance (42%); historical romance (33%); paranormal romance (30%); New Adult (26%); Young Adult romance (18%); and Christian romance (14%).
It's interesting that in both print and ebook formats romantic suspense dominates. Romantic suspense is effectively a blend of the thriller genre that's dominating the charts and traditional romance. Clearly, readers enjoy excitement, twists and turns and a certain degree of darkness in their fiction.
What does all this mean for a writer like myself, who writes beautiful, evocative, epic romance 'like Hollywood used to make'? Will my next book be a romantic suspense novel instead? Absolutely not, is the answer! Because, as I shall discuss in a post later this week, a writer must write entirely for him- or herself, not to chase a trend or please a market; you have to write the book that demands to be written, the book that touches your heart and soul. Only then can you genuinely connect with readers.
One of the many aspects of being an author is cover creation. I am fortunate to have a publisher that allows me to have input into my covers, and it is a part of the publishing process that I very much enjoy. That said, I do not always find it easy to decide how I want the cover to look. Cover design is far more difficult than it may appear at a glance, for one simple reason: the cover is really important to capture a reader's interest, and to convey the mood and style and subject of a book.
How much do you judge a book by its cover? Do you have to 'connect' with cover art before you will pick up a book and read the synopsis? What do you look for in a cover? Is it important to have covers that look beautiful on your shelf (or do you perhaps read ebook versions when you don't love the cover so much)? I would love to hear your thoughts.
In order to better understand how readers judge covers, I thought I would try a poll this week. Have a look at these covers, which are all for the literary classic Tender Is the Night by F. Scott Fitzgerald.

Which do you like best? Please vote using the form below. Let's see which style of cover is the most appealing.
[polldaddy poll=9568499]