on
November 3, 2014
at
8:29 am
In the British Museum, London, there resides a very, very old papyrus scroll on which is written a work of wisdom from Ancient Egypt. Its argument was exceeding radical for the time (around the 12th century AD): writing is a surer path to immortality than fine tombs. The Immortality of Writers, as the scroll is known, includes these words:
…Those writers known from the old days, the times just after the gods. Those who foretold what would happen (and did), whose names will endure for eternity. They disappeared when they finished their lives, and all their kindred forgotten. They did not build pyramids in bronze with gravestones of iron from heaven. They did not think to leave a patrimony made of children who would give their names distinction, rather they formed a progeny by means of writing and in the books of wisdom they left…
They gave themselves [the scroll as lector]-priest, the writing board as loving son. Instruction are their tombs, the reed pen their child, the stone surface their wife…..Man decays, his corpse is dust. All his kin have perished; But a book makes him remembered through the mouth of its reciter. Better is a book than a well built house…
Better is a book than a well-built house… It must have been hugely controversial at the time, but today I think this argument strikes a chord with many people. No matter how much we advance as people, no matter how far technology takes us and how much civil rights activists have transformed society, one driving, terrible force remains in humanity: the fear of death. Or, to be more specific, the fear of nothingness – of ceasing to exist.
How do creative people handle that fear? They leave pieces of themselves behind; they immortalise themselves through their art. For some, the remnants of their being after they pass away are few and small. For others, the body of work is revered, so that artists like Michelangelo and writers like Victor Hugo and composers like Beethoven and architects like Frank Lloyd Wright are known by many people. Whatever your idea is of an afterlife, it is easy to imagine such creatives happy to see their legacy live on beyond their mortal body. As Jorge Luis Borge said, 'When writers die they become books, which is, after all, not too bad an incarnation.'
But what if you're not a creative? What if, instead, you are like Paolo in my novel The Echoes of Love and a keen spectator, not a performer: like him, you'spend a lot of time reading about beautiful things and like to surround myself with them'. How can you tap into the immortality of the writer?
Well, between now and 20 November, you have the chance of being a character in a novel by one of these acclaimed writers: Margaret Atwood, Joanna Trollope, Martina Cole, Will Self, Sebastian Faulks, Tracy Chevalier, Alan Hollinghurst, Ken Follett, Ian McEwan, Robert Harris, HanifKureishi, Zadie Smith, Kathy Lette, Adam Foulds, Adam Mars-Jones and Pat Barker.
Seventeen authors are 'donating a character' to raise funds for the charity Freedom From Torture, which cares for people who have been tortured.  Anyone can bid in the 'Literary Immortality Auction' at the Freedom From Torture website, and the bids will feed into a live auction on 20 November at The Royal Institute in London.
Character options depend on the author, but as a minimum your name can appear. Tracy Chevalier, for example,explained:
I am holding open a place in my new novel for Mrs. (ideally a Mrs.) [your surname], a tough-talking landlady of a boarding house in 1850s Gold Rush-era San Francisco. The first thing she says to the hero is 'No sick on my stairs. You vomit on my floors, you're out.' Is your name up to that?
Author Ian McEwan made a powerful case for entering the auction:
Forget the promises of the world's religions. This auction offers the genuine opportunity of an afterlife. More importantly, bidding in the Freedom from Torture auction will help support a crucial and noble cause. The rehabilitation of torture survivors cannot be accomplished without expertise, compassion, time—and your money.
The fundraising initiative has certainly given me something to think about. I wonder, would my own readers enjoy such a competition?
On very few facts do academics agree, but here is one: reading books is good for you. Countless studies have shown the many benefits of reading, from improving communication skills, organisational ability and concentration, to relieving stress and opening up the imagination. And how many studies have found a downside to reading? None, so far as I can find!
We should all read more books; we know that. To relax. To expand the mind. To connect – as William Nicholson wrote for his characterisation of writer CS Lewis: 'We read to know we're not alone.' But does what we read affect what we read? Specifically, for the many of us who are active in social media, is our time spent on Twitter or Facebook or any other platform making us better, wider readers, or diminishing our desire and ability to read books?
Down with social media!
You could argue that social media developments are to the detriment of book-reading:
Social media encourages us to flit about and digest information in tiny chunks. Does it hinder the patience required to read a whole book?
Heavy social media usage means reading lots of text on a daily basis. Does that wear us out, overloading the reading desire, and make us less keen to pick up a book at bedtime? Does it take away the precious time you would otherwise dedicate to reading?
Social media writing is generally at the level of published-book writing. Does social media text dumb us down, and make the transition to 'proper' writing jarring?
Social media text tends to be issue- and people-centric and rooted in the present time. Often, following a social-media feed has the feel of a soap opera – stories, real-life ones, unfolding before us. Are we less interested in learning about people through stories set in the past or even the future when we're in touch more with real ones?
Finally, what's cooler for a young person today – checking Facebook, posting an Instagram picture or reading a book? If you dare not to be on Facebook, are you something of an outcast? Social media is called 'social' for a reason – it connects us to a whole network of people. Reading, on the contrary, is a solitary pursuit. Has social media forced a notion that we should be spending our time being 'sociable'; 'being', in whatever way, with people in preference to taking time to ourselves?
Hooray for social media!
Some argue that quite simply the more you read, the more you read. Reading social media feeds on and off all day means you're practising the skill of reading constantly, so picking up a book and reading the text never feels strange and outmoded.
If you're not a keen book reader, social media can plant ideas that may just send you to a bookstore. All sorts of content can connect you to books, from friends talking about them to sidebar adverts promoting them. Like it or not, in some way you'll come across books more often if you use social media.
If you're already a keen book reader, social media opens up a brilliant and vast world of possibilities! Every single social media platform has something for the book reader, from following a book feed on Facebook, to Tweeting your favourite author, to pinning beautiful covers on Pinterest, to reading a book review blog for recommendations, to joining a reading group on Goodreads and making new friends.
Comparing these pros and cons list, you'll notice that the negative comments outweigh the positive ones in number. However, the final positive comment, in my view, blows all of the negatives out of the water!
One of the best aspects of my own publishing journey has been getting to know various social media and then using them to connect to like-minded readers and to find great new books to read. I know that I've read a lot more as a result of social media; I've even posted book reviews on this blog for some years now as a means to offer my own recommendations to others. If you can keep in check the downside of social media by ensuring that you control it and not vice versa, so you don't drown in it but dip in and out, then it has much to offer a reader.
Gustave Flaubert wrote: 'Read in order to live.' In that sense, social media has the power to breathe new life into books, into reading, into how we all read. A tool that can be used for great good!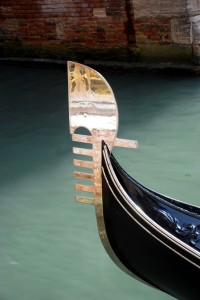 My novel The Echoes of Love opens in Venice, and so naturally descriptions of gondolas such as this one feature from time in time when I'm setting a scene: A couple of gondolas, their great steel blades looming dangerously out of the soft velvety mist, glided by swiftly over the gently lapping waters.The 'great steel blades' on the prow are an essential element in the description; part of the quintessential design of the gondola.  But did you know that they are under threat of extinction?
The metal blade is called a fero da prora, and it serves an important function: to balance the weight of the gondola at the stern. It is also a decoration that is rich in symbolism. First, the colour – Paolo explains this when he narrates a legend to Venetia in The Echoes of Love:
'A crescent moon plunged into the sea to provide a shield of darkness for two young lovers to be alone together. That is the reason for the black colour of the gondola, caused by the abrupt immersion of the phosphorescent body in cold water, and the reason for the silvery lustre of the prow and the stern, which remained out of the water.'
Then the shape. Some say the S shape symbolises the turns of the Grand Canal; some say the overall look is to recall the mane of a lion, the symbol of Venice. The six-toothed comb beneath represents the six sestieri of Venice. The backwards tooth, the risso di poopa (hedgehog of the stern) stands for Giudecca. The friezes that sometimes feature between the six teeth represent the three major bridges of Venice: Rialto, Accademia and Scalzi.
Clearly, the fero da prorais a many-faceted element of the gondola. Why, then, are so many gondoliers today removing it from their craft? The answer lies in the rising water levels in the city (for details of this, see my earlier blog post 'The fragility of Venetian beauty'). Venice is a city of waterways; and a city of bridges; and a city of gondolas that need to pass under bridges. But the acquaalta (high water) caused by rising sea levels means that the gondolas are coming ever closer to the underbelly of bridges, and the metal is at times scraping along the stonework.
To preserve the heritage of the gondola and ensure its full beauty remains, authorities in Venice impose strict rules on the craft and their pilots. In recognition of the problem, they have suggested that gondoliers make the fero da prorahinged, so they can flip them down under a bridge and then back up when in full view. But few gondoliers take this option; instead, a recent article in the Guardian suggests that instead 'almost all' remove their metalwork. The problem is that high waters are becoming less a rarity and more a way of life. In 1983 only 35 high water times occurred; last year Venice saw 156. Gondoliers are seeking a permanent solution to fitting easily under bridges.
The authorities have retaliated, meanwhile, by introducing fines for gondoliers not displaying a fero da prora, but without the means to combat the rising water levels, there is ultimately little they can do to protect this element of the gondola.
The gondola has long been a symbol of Venice, and in a sense that symbolism is now extending to the shaky footing on which the city's future lies. At some point, presumably, the gondolier will cease to fit beneath a bridge – unless every bridge is rebuilt to be higher, and every street in Venice reinforced against the high water or built up. The death of the gondola is a sobering thought. It is one that makes me keen to revisit Venice, because who knows for how long its current vistas and culture will remain intact for our appreciation?
Since the dawn of the digital books, a battle has raged on pricing, between those who price high and those who price low:
High: The publishers lead this camp, because of course they want maximum profit on a book sale. Never mind that the publication hasn't included the costs of printing and distribution; they want an ebook's price to sit close to the print book price. They cite the costs for legal work, editing, design and administration. And, of course, there is the intrinsic value in the book being a body of work on which an author has worked tirelessly.
Low: It was the early Amazon self-publishing success stories that saw minimal pricing lead to massive sales – authors like John Locke and Amanda Hocking. They followed the 'pile them high and sell them cheap' strategy, a kind of Wallmart approach, with the idea that readers were more likely to try an unknown author for just 99 pence or 99 cents. And it worked – so much so that a trend began, and every 99 price point publication began to damage the credibility of the high-price ebooks.
Interestingly, the price war has become something of a cerebral argument on the value of a digital book versus a print book, instead of a fight to the death. For if all books were priced high, how would the quality, traditionally published books stand out? And if all books were priced low, what hope would a small press or independently published book have against books created by the giants of publishing?
Take, for example, the top 10ebook bestsellers in the US for the week ending 10 October:
Gone Girl by Gillian Flynn (Penguin Random House): $7.99
Stepbrother Dearest by Penelope Ward: (Self-pub): $2.99
Outlander by Diana Gabaldon (Penguin Random House): $4.99
Gray Mountain by John Grisham (Penguin Random House): $11.99
Killing Patton by Martin Dugard (Macmillan) $9.99
Burnby James Patterson (Hachette): $9.99
Personal by Lee Child (Penguin Random House): $10.99
The Best of Me by Nicholas Sparks (Hachette): $4.79
The Maze Runner by James Dashner (Penguin Random House): $5.72
Captivated By Youby Sylvia Day (Penguin Random House): $7.99
The average ebook price across the top 25 is $7.74, up from $7.57 the preceding week. There are several strategies at work:
A self-publishing author opting for a low price – but not too low; the 99c/p price point has fallen from favour
New books priced very high – such as the John Grisham; capitalising on the impatient of keen fans and shouting 'quality book – see how much we're charging'.
A film tie-in book, The Best of Me, priced at $4.79 to attract mass sales as the film is released.
Romance novels at a lower price point: note Outlanderat $4.99, cheap for a Penguin Random House novel.
Meanwhile, the Hachette versus Amazon war on ebook pricing continues to be a hot topic of conversation in the media. Amazon wants to set a $9.99 limit price on most ebooks; Hachette does not agree. This week bestselling author R.L. Stine spoke out in favour of Amazon's goal of keeping e-book prices low. 'To me, the lower the price, the more books you're going to sell,' Stine told HuffPost Live.
What do you think about ebook pricing? How much will you spend on an ebook? Does a 99 pence or cent price point make you nervous, or eager to click 'Buy now'? Will you spend five or six or seven dollars or pounds on the new release from your favourite author that's only marginally cheaper in ebook format than in paperback, or will you refuse and wait for the price to drop? Are you keen to see ebook prices come down, because, like the 32% of respondents to a recent survey by market research firm Mintel, you prefer paper books but opt for ebooks that cost less? Or areyou one of the 25% who read more than you used to because ebooks have made reading more affordable?
I would love to hear your thoughts.
This week, I was surprised to find a delivery man at my door at 8.50 p.m. on a Sunday evening. He was from Amazon, bringing a book I'd ordered. When I expressed surprise at the hour, he told me they now delivered until 9 p.m. every day of the week.  I hadn't paid for any kind of expedited delivery – just the standard free option.
Then, yesterday, I was reading The Bookseller, the trade press for the UK publishing industry, and my eye was caught by the headline: 'Amazon offers same-day collection in the UK'. The book-selling giant is to introduce a same-day collection service in the UK. That means customers who order a book (or another product) fulfilled by Amazon will be able to pick it up from one of 500 branches of a national newsagent chain. Order before 11.45 a.m. and you can pick up the book after 4 p.m. Order before 7.45 p.m. and you can collect from 6.30a.m. to 9 a.m. the next morning. The service will be free until 2015 for Prime customers, and £4.99 for others.
This same-day collection service is an add-on to the Amazon Lockers initiative, which allows customers to pick up their orders from lockers all over the country. So, for example, you can order a book online in the evening and pick it up at a London Underground station or an airport the next day. According to Amazon, this is an increasingly popular service, with orders doubling over the last year. Amazon has also been keen to push the idea that its use of some 6,000 pick-up venues drives people back to the struggling high streets (while neglecting to explore its own role in causing those high streets to struggle).
Christopher North, managing director of Amazon.co.uk, said that the company's intention is to 'ensure that customers all over the UK are provided with as much choice as possible when it comes to the delivery of their Amazon order' (Bookseller).Apparently, this is what we, the consumers, want: all sorts of choices for getting our orders, and speed – faster, faster, faster.
But is that really what we as a collective want and need? Or is that what a corporate, world-changing giant is telling us to want and need?
Back to the delivery man at my door on a Sunday evening. While it's always lovely to receive a new book, I would happily have taken delivery the following morning (or Tuesday, or Wednesday). I asked several friends the next day whether they'd experienced this 'super Sunday delivery', and they had. They all agreed that they didn't feel it necessary, and had been surprised by the development. More concerning was the fact that some spoke of being irritated or uncomfortable. One poor lady had been home alone when the delivery man came, and had been quite unhappy opening the door in the dark and in her dressing gown!
'So what of same-day books?' I asked my friends. The discussion that ensued! Here are some of the points made:
It may be an exciting idea for the odd, very special publication – imagine if this had existed when the final Harry Potter book came out. But wait, bookstores opened at midnight then for eager fans…
Does it take away some of the joy of getting a book – the anticipation?
If you get a book too fast, do you then read it too fast?
Do you want to pick up a book from a locker or a newsagent – is something of the experience of the bookshop or even the gloriously book-shaped parcel lost?
How can a local independent book store that opens regular hours possibly compete?
Who really needs a book that fast!
Whatever next…?
The last point was the most concerning one. Think of the lessons we once taught children as they grow up:
Patience is a virtue.
Good things come to those who wait.
More haste, less speed.
Where are those values, once core in society, going? What's happened to deferred gratification? Why must everything be faster? Why must childlike 'now, now, now' demands be met, instead of tempered?
Once upon a time, books were ever-so-precious objects – coveted and treasured. Of course, the quick delivery supports the idea of coveting books, needing to have them. But does it cement the idea of treasuring them as items? When you get something so easily, so fast, does it mean the same?
What do you think? I would love to hear your thoughts.