on
November 12, 2014
at
8:08 am
The idea that the conventional book store is in trouble needs no introduction. Digital publishing, book discounting by giants like Amazon, the shift from high-street shopping to online shopping: these, and other reasons, have seen many book stores close in the past few years. Those that soldier on are forced to be ever more innovative in finding ways to bring customers through the door, and to the till armed with purchases. And an interesting idea, but one trialled so far by very few, is genre-specific book stores.
For some people, of course, the book store experience is about browsing across genres. Looking at the hotch-potch of titles laid out on display tables. Reading the blurb of a novel, then skimming a coffee-table art book, and then perhaps checking out the new picture books in search of a present for a little one. But those passionate about a particular genre of fiction may enter the big book store that stocks all sorts of titles and simply head for one section, where they spend the next few minutes seeing what's new, and then sail out – perhaps with a new book; perhaps not – without looking at any other kind of book. How much more may that reader, that book buyer, engage if their section were bigger, brighter, more exciting – a world all on its own?
Imagine not just stores, but destinations. Places to support. Places to discover new books – and so much more. Just imagine young adult book stores. Crime thriller book stores. Literary fiction book stores. Romantic fiction book stores.
Being a romance writer, the latter idea most intrigues me. Imagine a store that's sublimely romantic. Beautifully lit with lamps and candelabras. Playing soft, lilting music. Smelling of scented candles. Velvet armchairs and sofas scattered amid the bookcases, begging you to sit down and get lost in a book. Readers would flock there! We'd make it our second home, I think; use it as a kind of restorative therapy.
The genre-specific store is a proven entity: think of the classic comic-book store that you find in most major cities. It's there not only to sell wares to those who love science fiction, fantasy and horror; but also to provide a hub for them – a place with which they identity and that they use as a means of identifying who they are.
Therein, perhaps, lies the issue for some genres. Would readers of erotic fiction want to be seen stepping into a book store specialising in that genre? Would crime thriller aficionados be confidently open with that association (and what gruesome décor may that store feature!). The idea has merits, still, across the genres, but is perhaps more workable for those genres that people proudly engage with.
But there is a solution to open the door across all genres: go digital. Publishers are increasingly launching genre-specific online stores. Take Diversion Books, for example, which has just opened EverAfter Romance – a store that sells ebooks from various publishers across the romance genre. There's a website at www.everafterromance.com, but the crux of the activity is via an app, downloadable on both iOS and Android mobile devices, which offers access to 100,000 titles.
Going digital means it's easy to create marketing campaigns that really get to the heart of what the reader wants. Rather than selling the idea of buying books, you're selling the idea of buying the genre books only. So, for example, EverAfter Romance offers to give those who sign up alerts about recommendations, flash sales and free eBooks. That way, it will keep in contact with readers and regularly present them with ideas for new purchases; much easier marketing than the physical book store must undertake, given that its readers need to walk past for it to hook them in.
What do you think? Would you go into a genre-specific book store? For which genres would you love to see dedicated stores? Do you shop at any online stores that specialise in one or just a few genres? How do you compare that to shopping at an all-books online store? I would love to hear your thoughts.
Another week, another Amazon development! This time, it's the new Kindle Scout. Here's how the process works:
Authors (US only) submit their complete manuscript of at least 50,000 words (only the first 5,000 words are visible to readers). The manuscript must be unpublished in any format. They also supply a book cover, a one-line summary, a 500-word synopsis, and an author bio and photo. The book is launched on Kindle Scout, and authors work to publicise it and encourage reads.
Readers register on the site, read book extracts and nominate up to three books at a time that they'd like to see published. If a book they nominated is published, they receive a free copy to encourage reviews.
Amazon's Kindle Scout team chooses a small number of books to be published in ebook format based on their popularity and the team's personal preference.
The benefits for readers are free books and a say in what gets published. The benefit to Amazon is, of course, new blood! And for authors, Kindle Scout is offering:
The opportunity of a publishing contract in 45 days or less
A guaranteed advance of $1,500 and royalties of 50%
Featured Amazon marketing, to include 'targeted email campaigns and promotions'
Kindle Scout holds the ebook rights for five years and then reverts them to the author if the book hasn't made $25,000 in royalties (or two years if the book fails to sell well at all and earns less than $500 in total royalties).
Ever innovative and on-trend, Amazon is breaking new ground here in marrying three areas of digital publishing:
Traditional publishing: Amazon is acting as a traditional publisher. Ultimately, the readers' vote does not determine who gets published: the Kindle Scout website explains 'Nominations give us an idea of which books readers think are great; the rest is up to the Kindle Scout team who then reviews books for potential publication'. So Amazon is in complete control of the commissioning process. Then it's handling production (I assume also design; it's unclear whether it will offer cover redesigns), publication and marketing in the traditional way, retaining rights and paying royalties. It's worth noting that the 50% royalty is more generous than many traditional publishers currently offer.
Self-publishing: The author who gets published via Kindle Scout is not self-publishing, and yet in a sense they need to self-publish to the Kindle Scout website before getting a publishing contract. Thus the author who wants a good chance of attracting the readers' and team's attention needs to undertake editing and formatting of the manuscript, designing a great cover and then pushing hard for nominations on the site, otherwise known as marketing. Genius of Amazon, because the author who does well independently is a safe bet for taking forward under contract.
Crowdsourcing: With this element, Amazon is testing the market for a book before signing it, and building engagement with readers. The really clever element, I think, is that each nominator later gets a free copy of the published book, thereby giving the book a headstart with those all-important reviews (and guaranteeing that the first reviews will be positive).
Plenty of writers are flocking to the site to give it a go. But there are writers voicing concerns:
That Kindle Scout is only open to US residents.
That it's limited to the genres of romance, mystery and thriller, and science fiction and fantasy.
That Kindle Scout will publish only to Kindle and holds the ebook rights, so books won't be available in other formats, such as for the Nook.
That author does plenty of self-publishing functions, but receives a 50% royalty rather than the 70% available through Kindle Direct Publishing.
What do you think? Would you submit a book to Kindle Scout? Will you nominate books on the site? Does this concept have potential? Will it be, as Tech Crunchadvises, 'a potentially industry-changing idea'? I would love to hear your thoughts.
In the British Museum, London, there resides a very, very old papyrus scroll on which is written a work of wisdom from Ancient Egypt. Its argument was exceeding radical for the time (around the 12th century AD): writing is a surer path to immortality than fine tombs. The Immortality of Writers, as the scroll is known, includes these words:
…Those writers known from the old days, the times just after the gods. Those who foretold what would happen (and did), whose names will endure for eternity. They disappeared when they finished their lives, and all their kindred forgotten. They did not build pyramids in bronze with gravestones of iron from heaven. They did not think to leave a patrimony made of children who would give their names distinction, rather they formed a progeny by means of writing and in the books of wisdom they left…
They gave themselves [the scroll as lector]-priest, the writing board as loving son. Instruction are their tombs, the reed pen their child, the stone surface their wife…..Man decays, his corpse is dust. All his kin have perished; But a book makes him remembered through the mouth of its reciter. Better is a book than a well built house…
Better is a book than a well-built house… It must have been hugely controversial at the time, but today I think this argument strikes a chord with many people. No matter how much we advance as people, no matter how far technology takes us and how much civil rights activists have transformed society, one driving, terrible force remains in humanity: the fear of death. Or, to be more specific, the fear of nothingness – of ceasing to exist.
How do creative people handle that fear? They leave pieces of themselves behind; they immortalise themselves through their art. For some, the remnants of their being after they pass away are few and small. For others, the body of work is revered, so that artists like Michelangelo and writers like Victor Hugo and composers like Beethoven and architects like Frank Lloyd Wright are known by many people. Whatever your idea is of an afterlife, it is easy to imagine such creatives happy to see their legacy live on beyond their mortal body. As Jorge Luis Borge said, 'When writers die they become books, which is, after all, not too bad an incarnation.'
But what if you're not a creative? What if, instead, you are like Paolo in my novel The Echoes of Love and a keen spectator, not a performer: like him, you'spend a lot of time reading about beautiful things and like to surround myself with them'. How can you tap into the immortality of the writer?
Well, between now and 20 November, you have the chance of being a character in a novel by one of these acclaimed writers: Margaret Atwood, Joanna Trollope, Martina Cole, Will Self, Sebastian Faulks, Tracy Chevalier, Alan Hollinghurst, Ken Follett, Ian McEwan, Robert Harris, HanifKureishi, Zadie Smith, Kathy Lette, Adam Foulds, Adam Mars-Jones and Pat Barker.
Seventeen authors are 'donating a character' to raise funds for the charity Freedom From Torture, which cares for people who have been tortured.  Anyone can bid in the 'Literary Immortality Auction' at the Freedom From Torture website, and the bids will feed into a live auction on 20 November at The Royal Institute in London.
Character options depend on the author, but as a minimum your name can appear. Tracy Chevalier, for example,explained:
I am holding open a place in my new novel for Mrs. (ideally a Mrs.) [your surname], a tough-talking landlady of a boarding house in 1850s Gold Rush-era San Francisco. The first thing she says to the hero is 'No sick on my stairs. You vomit on my floors, you're out.' Is your name up to that?
Author Ian McEwan made a powerful case for entering the auction:
Forget the promises of the world's religions. This auction offers the genuine opportunity of an afterlife. More importantly, bidding in the Freedom from Torture auction will help support a crucial and noble cause. The rehabilitation of torture survivors cannot be accomplished without expertise, compassion, time—and your money.
The fundraising initiative has certainly given me something to think about. I wonder, would my own readers enjoy such a competition?
On very few facts do academics agree, but here is one: reading books is good for you. Countless studies have shown the many benefits of reading, from improving communication skills, organisational ability and concentration, to relieving stress and opening up the imagination. And how many studies have found a downside to reading? None, so far as I can find!
We should all read more books; we know that. To relax. To expand the mind. To connect – as William Nicholson wrote for his characterisation of writer CS Lewis: 'We read to know we're not alone.' But does what we read affect what we read? Specifically, for the many of us who are active in social media, is our time spent on Twitter or Facebook or any other platform making us better, wider readers, or diminishing our desire and ability to read books?
Down with social media!
You could argue that social media developments are to the detriment of book-reading:
Social media encourages us to flit about and digest information in tiny chunks. Does it hinder the patience required to read a whole book?
Heavy social media usage means reading lots of text on a daily basis. Does that wear us out, overloading the reading desire, and make us less keen to pick up a book at bedtime? Does it take away the precious time you would otherwise dedicate to reading?
Social media writing is generally at the level of published-book writing. Does social media text dumb us down, and make the transition to 'proper' writing jarring?
Social media text tends to be issue- and people-centric and rooted in the present time. Often, following a social-media feed has the feel of a soap opera – stories, real-life ones, unfolding before us. Are we less interested in learning about people through stories set in the past or even the future when we're in touch more with real ones?
Finally, what's cooler for a young person today – checking Facebook, posting an Instagram picture or reading a book? If you dare not to be on Facebook, are you something of an outcast? Social media is called 'social' for a reason – it connects us to a whole network of people. Reading, on the contrary, is a solitary pursuit. Has social media forced a notion that we should be spending our time being 'sociable'; 'being', in whatever way, with people in preference to taking time to ourselves?
Hooray for social media!
Some argue that quite simply the more you read, the more you read. Reading social media feeds on and off all day means you're practising the skill of reading constantly, so picking up a book and reading the text never feels strange and outmoded.
If you're not a keen book reader, social media can plant ideas that may just send you to a bookstore. All sorts of content can connect you to books, from friends talking about them to sidebar adverts promoting them. Like it or not, in some way you'll come across books more often if you use social media.
If you're already a keen book reader, social media opens up a brilliant and vast world of possibilities! Every single social media platform has something for the book reader, from following a book feed on Facebook, to Tweeting your favourite author, to pinning beautiful covers on Pinterest, to reading a book review blog for recommendations, to joining a reading group on Goodreads and making new friends.
Comparing these pros and cons list, you'll notice that the negative comments outweigh the positive ones in number. However, the final positive comment, in my view, blows all of the negatives out of the water!
One of the best aspects of my own publishing journey has been getting to know various social media and then using them to connect to like-minded readers and to find great new books to read. I know that I've read a lot more as a result of social media; I've even posted book reviews on this blog for some years now as a means to offer my own recommendations to others. If you can keep in check the downside of social media by ensuring that you control it and not vice versa, so you don't drown in it but dip in and out, then it has much to offer a reader.
Gustave Flaubert wrote: 'Read in order to live.' In that sense, social media has the power to breathe new life into books, into reading, into how we all read. A tool that can be used for great good!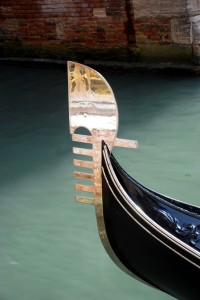 My novel The Echoes of Love opens in Venice, and so naturally descriptions of gondolas such as this one feature from time in time when I'm setting a scene: A couple of gondolas, their great steel blades looming dangerously out of the soft velvety mist, glided by swiftly over the gently lapping waters.The 'great steel blades' on the prow are an essential element in the description; part of the quintessential design of the gondola.  But did you know that they are under threat of extinction?
The metal blade is called a fero da prora, and it serves an important function: to balance the weight of the gondola at the stern. It is also a decoration that is rich in symbolism. First, the colour – Paolo explains this when he narrates a legend to Venetia in The Echoes of Love:
'A crescent moon plunged into the sea to provide a shield of darkness for two young lovers to be alone together. That is the reason for the black colour of the gondola, caused by the abrupt immersion of the phosphorescent body in cold water, and the reason for the silvery lustre of the prow and the stern, which remained out of the water.'
Then the shape. Some say the S shape symbolises the turns of the Grand Canal; some say the overall look is to recall the mane of a lion, the symbol of Venice. The six-toothed comb beneath represents the six sestieri of Venice. The backwards tooth, the risso di poopa (hedgehog of the stern) stands for Giudecca. The friezes that sometimes feature between the six teeth represent the three major bridges of Venice: Rialto, Accademia and Scalzi.
Clearly, the fero da prorais a many-faceted element of the gondola. Why, then, are so many gondoliers today removing it from their craft? The answer lies in the rising water levels in the city (for details of this, see my earlier blog post 'The fragility of Venetian beauty'). Venice is a city of waterways; and a city of bridges; and a city of gondolas that need to pass under bridges. But the acquaalta (high water) caused by rising sea levels means that the gondolas are coming ever closer to the underbelly of bridges, and the metal is at times scraping along the stonework.
To preserve the heritage of the gondola and ensure its full beauty remains, authorities in Venice impose strict rules on the craft and their pilots. In recognition of the problem, they have suggested that gondoliers make the fero da prorahinged, so they can flip them down under a bridge and then back up when in full view. But few gondoliers take this option; instead, a recent article in the Guardian suggests that instead 'almost all' remove their metalwork. The problem is that high waters are becoming less a rarity and more a way of life. In 1983 only 35 high water times occurred; last year Venice saw 156. Gondoliers are seeking a permanent solution to fitting easily under bridges.
The authorities have retaliated, meanwhile, by introducing fines for gondoliers not displaying a fero da prora, but without the means to combat the rising water levels, there is ultimately little they can do to protect this element of the gondola.
The gondola has long been a symbol of Venice, and in a sense that symbolism is now extending to the shaky footing on which the city's future lies. At some point, presumably, the gondolier will cease to fit beneath a bridge – unless every bridge is rebuilt to be higher, and every street in Venice reinforced against the high water or built up. The death of the gondola is a sobering thought. It is one that makes me keen to revisit Venice, because who knows for how long its current vistas and culture will remain intact for our appreciation?