on
June 11, 2012
at
12:37 pm
Did you watch any of the Queen's jubilee celebrations on the television? I enjoyed watching the flotilla, the fireworks after the concert and the coverage of the National Service of Thanksgiving; but what most drew my attention was the television footage of the Royal Family from many years ago. One film in particular caught my eye – Princess Elizabeth's visit to Kenya in 1952, aged 26, during which she discovered that her father had passed away and she had acceded to the throne of England.
Princess Elizabeth and Prince Philip were attending a state dinner at Treetops Hotel when the news reached them. As conservationist Jim Corbett, who was one of her party, put it: "For the first time in the history of the world a young girl climbed into a tree one day a Princess, and after having described it as her most thrilling experience, she climbed down from the tree the next day a Queen."
Treetops is located in Aberdare National Park, near the township of Nyeri, and is a unique and wonderful building – a treehouse that affords guests an uninterrupted view of the surrounding wildlife from the observation lounges and ground-floor hides. The footage of the Royals included all manner of wild animals, which the young prince and princess were delighted to see up close.
Watching the footage, my mind at once skipped to another young woman taking in the sights of Kenya two decades later, grieving a lost father and having to take on new, weighty responsibilities: the heroine of my novel Burning Embers.  Nyeri is not far from where Coral stays with friends near Nairobi and Narok, and through the course of the book Coral explores much of the surrounding area – by car, by plane, by hot air balloon. She too is keen to see the wildlife in its natural habitat, undisturbed.
Built in 1932, Treetops has long attracted notable guests. As well as the Queen, who visited the hotel again in 1983, guests have included the 1st Baron Baden-Powell, founder of the Scouts, Charlie Chaplin, Joan Crawford and Lord Mountbatten. I like to imagine that Treetops would be a destination for Rafe and Coral too as they go forward in their lives together – an ideal spot for a romantic weekend away, in the very heart of the country they love.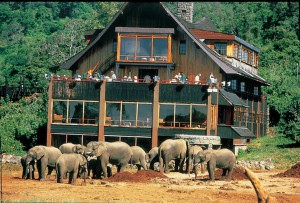 This week journalist Jonathan Freedland, who writes thrillers under the pen name Sam Bourne, has published an article called 'Why the Facts Really Count in Fiction'. In the article, he explains that he takes great care in his writing to ensure that his books are as factually correct as possible.
Author Barbara Trapido has also spoken on this theme, explaining how carefully she checks out the details of her plots and characters. Indeed, at one point, she says, British Telecom were offering her a discount on calls to the National Rail Enquiries line because she used it so often to check the details of journeys for a book she was writing.
In my mind, authors who make such an effort to ensure the integrity of their books are to be commended. Unless you're writing a fantasy novel, I believe that an essential ingredient of story-telling is being able to make a reader really believe in the fantasy world you're creating – and that's just not possible if your character travels from London to Edinburgh by car in one hour, or you describe the Natural History Museum in London as skyscraper.
I always research carefully before beginning a book – reading books, watching films, travelling to places, talking to people who have more knowledge than me. In many ways this is the fun part of writing for me, because I learn so many fascinating new things, and I am inspired in new and exciting ways.
I endeavour to ensure that my writing is imbued with a clear sense of place; and I think because I have been fortunate enough to travel widely in my life, I especially enjoy writing about exotic, colourful, foreign climbs. It can be a challenge to write about countries outside of France and the UK, where I live, but for me that's part of the joy of writing. In my mind, I escape to far-off lands. I imagine the tastes and sounds and scents and sights and textures to the degree that I am quite transported. The more I research, the more vivid the world in my mind becomes, and the more real, I hope, it becomes on paper.
Regular readers of my blog will know that I'm passionate about music across many different genres, and I often use music as an inspiration for my writing. So I was delighted, this week, to read an article in The Huffington Post on 'lit-pop' – songs inspired by literature.
The fourteen songs profiled refer to works by Edgar Allen Poe, T.S. Eliot, Shakespeare, Ezra Pound, John Steinbeck, Albert Camus, Walt Whitman, Ernest Hemingway, John Donne, Sylvia Plath, Lewis Carroll, Vladmir Nabokov and J.R.R. Tolkien. But the one that most stood out for me was 'Wuthering Heights' by Kate Bush – I've always found it a chilling song, rather than romantic, which I think conveys the atmosphere of the Brontë novel.
I would add to the Huffington Post list '1984' by David Bowie, based on the George Orwell classic; 'Cassandra' by ABBA, based on the character in Homer's 'Iliad'; 'China in Your Hand' by T'Pau, based on Mary Shelley's Frankenstein; 'Love Song for a Vampire' by Annie Lennox, about Bram Stoker's Dracula; and 'Xanadu' by Rush, based on Coleridge's 'Kubla Khan'.
Then you have band names inspired by books – the Boo Radleys (To Kill a Mocking Bird by Harper Lee); The Doors (The Doors of Perception by Aldous Huxley); Modest Mouse ('The Mark on the Wall' by Virginia Woolf); Belle and Sebastian (Belle et Sébastien by Cécile Aubry); Heaven 17 and Moloko (A Clockwork Orange by Anthony Burgess); As I Lay Dying (As I Lay Dying by William Faulkner); Of Mice and Men (Of Mice and Men by John Steinbeck), to name but a few.
In an earlier blog post, I shared my findings of a web search for songs called 'Burning Embers' in line with my novel's title – and there was one in particular that I felt shared a connection with the book's themes.
I love the idea of art forms inspiring art forms. I love that song writers are bringing literature into music. And in return, some writers explore music in words. I've found that literature that attempts to recreate music in words can be very powerful: there are excellent examples to be found in Leo Tolstoy's The Kreutzer Sonata, in Marcel Proust's Swann's Way, in Ann Patchett's Bel Canto, in Louis de Bernières' Captain Corelli's Mandolin, in Joanna Trollope's The Choir, in Jilly Cooper's Appassionata, and in E.M. Forster's Howards End.
Perhaps one day a piece of music shall so overtake my imagination that an entire love story – setting, plot, characters – will spring up around the music. I very much like the idea of exploring this connection between music and literature in my own writing. The key is finding that right piece of music that transcends the barriers between the verbal and the non-verbal, the letters and the notes, and creates a unity of purpose that takes the reader to a single place that warms the romantic heart.
When browsing through a newspaper, I'm always drawn by articles about love and romance, whether love stories or commentary on the current state of romance in the country. So this week I was intrigued to read reports in the national press of a survey commissioned by Match.com to investigate the cost of dating.
According to the Daily Mail 'singletons spend more than £3 billion a year looking for love'. The article suggests that single people go on 37 million dates each year, spending an average of £47 on each date – a superb injection of cash into our struggling economy. The average individual spend per year on dating is over £1000. That includes entertainment and meals, transport, gifts and beautifying treatments.
The survey results are based on the responses of 2,000 single people in the UK, and of course Match.com is in the business of linking up single people, so was keen to focus on singles dating. But I'd be most interested to see a companion survey of 2,000 people who are in long-term relationships which explores just how often they date as well. I suspect that the survey of those in a relationship would not reveal as much focus on dating.
As is usually the case in romance writing, the novels I write focus largely on the 'courting' phase of the relationship – so my characters are very much dating through the book until the end, when they make the commitment to enter into a long-term relationship. And the courting phase is so full of romance that it allows me to really get lost in a world of romance. But once I write 'The End' and leave my characters to their life of wedded bliss, is that the end of meals out and trips to the theatre and bouquets of flowers and dressing up for each other?
No, I don't believe it is – but perhaps there is less need for material input now; perhaps 'dating' now can be more about emotional investment, rather than financial investment. Love is deeper, and there is less need to impress and more freedom to be yourself safe in the knowledge that you are loved. Yes, you enjoy putting on a beautiful dress, putting your hair up, spraying on some expensive scent and being whisked out for a lovely meal sometimes; but equally, sometimes you're happy to just be together, quietly – you're happy for a simpler, less extravagant time. Date night is important, but so is non-date night.
And perhaps there is a growing realisation that dating need not involve money. In fact, I think some of the most romantic experiences are the simplest: walking through the breaking surf on a beach at sunset; snuggling up in front of a roaring fire in winter and talking for hours; climbing a hill and gazing down on the world laid out below, hand in hand. It's the being together that counts.