Aida was just eighteen when her world turned upside down. She had been perfectly content living with her father, a renowned archaeologist, on the beautiful El Masri Estate in Upper Egypt, by the Nile and with views to the Valley of the Kings. But then disaster struck: her father was arrested for the theft and illegal possession of Egyptian antiquities, and when sentencing was passed in the courtroom, the stress was too much for him and he had a fatal heart attack.
Aida was, of course, distraught – and also filled with hatred. For she believed her father's good friend, Kamel, had betrayed him, and she blamed him wholly for her father's death.
To avoid the scandal, Aida fled Egypt and spent eight long years in England, nursing soldiers wounded in the war. When she returns to Egypt, it is with a singular purpose: to clear her father's name and see the true perpetrator of the crime brought to justice.
There is just one – major – problem with her plan. Kamel owns the neighbouring estate, and Aida was once very close to his son, Phares. Indeed, Kamel had spoken about an alliance between the two families and had asked for Aida's hand on behalf his son just before the tragedy. It was well known that they were almost engaged.
Soon after Aida returns, her father's lawyer, Naguib, tries to give her guidance.
'Things have changed now. You are not that young anymore and their son Phares still wants to marry you …'

Why was he telling her this? He had no right to speak sternly to her. She had barely stepped back on Egyptian soil and was already being pushed into a marriage of convenience.

With a slight lifting of her head she said gently, 'I have no intention of tying myself to someone I don't love.'

'In Egypt, habibti, the knowing and loving come after marriage.'
Arranged marriage is by no means unheard of in Egypt at the time; it is an age-old custom. In the case of Aida and Phares, Naguib sees a compelling reason for their union – by Egyptian standards, it is a marriage made in heaven.
'Your father's esba estate, is in a pitiful state, because without a power of attorney, no one could do anything about it. If you wanted to sell it today, I doubt you would get a reasonable price for it. Having Kamel oversee that side of things has been very useful, Aida. Plus, the Pharaonys' land borders yours, so it would be normal for your two families to unite.'
In addition, Naguib is quick to point out that it is expected that a woman of 26 would be married with a string of children by now.
An astute man, he also knows that the intended match between Phares and Aida back then was not without feeling. Though she tells the lawyer otherwise:
 'When I was younger I had a schoolgirl crush on Phares, no more. We were worlds apart in our thinking, and there was no question of love between us.' Hearing the words leave her mouth, that odd feeling of unease returned.
And for his part, Phares felt attraction too; as the housekeeper Amina says to Aida:
'I used to see how Phares Bey looked at you when he came to visit. Even when you had those fiery arguments … I think that deep down, he admired you.'
The truth is, Aida is determined to reject the idea of marrying Phares. Not only is he the son of the man she hates, but there is an age gap between them. More importantly, she is an independent woman now and so much more worldly from her experiences during the war. She will not be pushed into a marriage with, as she puts it, a stranger. When she marries, it will be for love.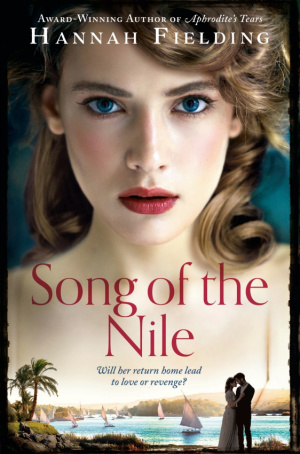 Song of the Nile: available to buy now
But when she meets Phares again, will he feel like a stranger? And will there be no stirring of sentiment within her?
He took her hand in his own strong palm and as their skin touched it seemed to Aida that she was warmed from head to toe, making her almost gasp aloud. It was as if the firm hand holding hers infused its own vitality, an electric current galvanising her cold, bewildered self to life. Never in her life had a handshake caused that to happen. Right away she wanted to break the contact and, as if sensing this, Phares increased the pressure of his grip. Heart beating furiously, she stood looking up at him, into those magnificent dark, laughing eyes, and to her irritation, Aida felt her cheeks colour.
Then:
The air between them crackled with intensity and they stood there mesmerised for longer than Aida knew. In the silence, the young woman felt the atmosphere become charged with a force that seemed elemental … as if a storm were coming.
In some novels, this would be the moment of connection, the 'meet cute', but of course Aida and Phares have a background; a shaky one, to be sure, but a background nonetheless – a foundation on which to build? There is a familiarity there, even a feeling of homecoming, and, if trust can develop, a sense of security.
Will Aida's absence indeed have made their hearts grow fonder? It is an adage that has stood the test of time; one might suppose that there is a grain of truth in it.
---
Photo credit: Evgeny Hmur/Shutterstock.com