Basbousa is a sweet dessert made from semolina and coconut with syrup. Its name translates to 'small kiss' in Arabic. The dish was so popular that it spread across the Ottoman Empire, and today you find variations in North African, Middle Eastern, Turkish and Greek cuisines. The original – and in my opinion, the most delicious – however, is the basbousa of Egypt. It can be served hot or cold, and it is usually cut into diamond shapes.
In Song of the Nile, the cook at Aida's home in Luxor makes basbousa to welcome her home after her years away nursing in England. He adds orange blossom water to his basbousa, as do I.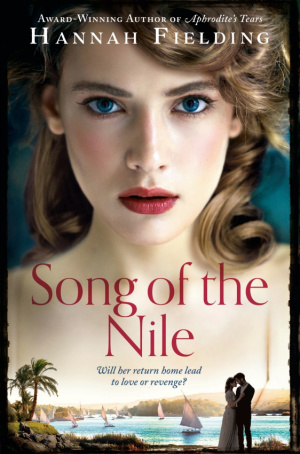 Song of the Nile: available to buy now
Here is the recipe I use for basbousa, which is always a hit with family and guests alike. There are two stages for the bake, both really quite straightforward.
Ingredients
For the syrup
2 cups caster sugar
1½ cups water
1 tablespoon orange blossom water (or rose water, if you prefer)
1 teaspoon lemon juice
For the cake
2 cups coarse semolina flour
1 cup desiccated coconut
½ cup unsalted butter
⅓ cup caster sugar
1 teaspoon baking soda
1 tablespoon honey
1 cup plain yoghurt (or sour cream)
Almonds (roasted or blanched, as preferred)
Stage 1: The syrup
Stir the sugar into the water in a saucepan and heat, stirring, until a syrup forms (it should be thick enough to coat the back of the spoon).
Stir in the orange blossom water and lemon juice, simmer and then leave to cool (be careful of very hot syrup).
Stage 1: The cake
Preheat the oven to 400°F/200°C.
Grease the cake pan with butter (and, if you have it, a little tahini). Use either a square (9X9) or round dish.
Mix the dry ingredients (semolina, baking soda, coconut and sugar).
Melt the butter and stir into the dry ingredients along with the honey.
Add the yoghurt and mix well. I use my hands for this mixing.
Press the cake mix into the baking dish.
Smooth the surface and then score diamond shapes.
Decorate each diamond with an almond.
Bake in the centre of the preheated oven until golden brown (around 30 minutes).
Remove the cake from the oven and while it's still hot, slice along the scored lines.
Pour on the syrup, saturating the cake thoroughly, and cover for at least 10 minutes.
Serve warm or cool. Enjoy!