In Song of the Nile, the heroine, Aida, has recently returned to Egypt after spending several years working as a nurse in London, caring for the wounded of World War Two. Her home in Luxor, by the Nile, seems so quiet and old-fashioned compared to London – but Cairo easily competes, with its bustle and clamour, though it has its own distinctive character.
Here is a glimpse of the city, as seen by Aida when she first arrives:
The long car ride led through a maze of streets lined with tall buildings and across squares aglow with street light. Even though it was past ten at night, the whole place was swarming with a motley crowd. In all the narrow alleys and lanes ckah-wehs, cafés, were open, where a few coloured bulbs suspended here and there lit up the scene only dimly. Near the shops the street became brighter. There, great lanterns set off the brilliant hues of fruit and vegetables, and the magnificent fabrics, carpets, jewellery and knick-knacks of all kinds spread out before the eyes of the customer. Imposing mosques with elegant tall minarets rising up in prayer to the sky stood side by side with old palaces and grand hotels. 

Natives, foreigners, soldiers, animals, cars, and hantours, light two-wheeled calashes drawn by a single horse, with a folding hood and seats for two passengers and another for the driver on the splashboard, struggled for supremacy in the streets. Aida wondered at the art with which those native coachmen patiently and adroitly steered their great carriages in that sea of traffic. 

There were beggars, sellers, men in rich robes and coloured turbans and women carrying heavy burdens on their head or a child upon their shoulder, all milling together in this immense human wave where everywhere was movement, brilliancy of colour, noise and agitation. Against this spangling backdrop, the women entirely dressed in black were the most striking; they were still wearing the boorcko, or the habarah, a veil dating from biblical times, which appealed to Aida's romantic imagination because it gave women's eyes a mysterious look…
The following day, keen to feel a part of the city, Aida takes a walk and finds herself among a wonderful mix of people:
The pavements were thronged with an international crowd. Aida could tell their nationality by the way they were dressed. Englishwomen in morning cottons made by local tailors; French and Italian girls beautifully turned out in light summer dresses, some of them showing a daring amount of bare skin; young Egyptian women in swinging black silk skirts, short black abbas wrapped around their heads and shoulders, filmy yashmaks below their large painted dark eyes, and tiny high-heeled shoes on small feet covered in white stockings. The men also were attired in a variety of clothes that pointed to their social status. Some wore linen and thin tweeds, others were in frock coats and tarbooshes, and many sported long, white kaftans and skullcaps. Every now and then a majestic sheikh passed her in richly embroidered silks, a flowing cloak and snowy turban, each one with their Sibha, Islamic prayer beads.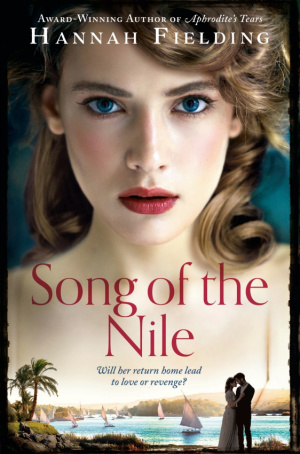 Song of the Nile: available to buy now
It is not only the people who give the city an international feel; so too do the buildings all around. Aida is on Sharaa Ibrahim Pasha, one of Cairo's main streets, running from Ramses Railway Station to the gates of Abdin Palace. In the mid-nineteenth, Khedive Ismail transformed this part of the city with his ambitious urbanisation project. I write:
Entire streets of traditional Oriental houses had vanished – the Cairene elite aspiring to a more European style – and between the Nile and the old town a whole new quarter of magnificent lacy boulevards had been built. The new features had a belle époque veneer as Italian, French and Austro-Hungarian architects went about creating a 'Paris of the Nile', with a twist here and there of Moorish decor to maintain the Islamic atmosphere.
For the aristocracy, the British and international officer class, Cairo was a fabulous playground, a place of frivolity, glamour and romance after the suffering and limitations of the war. Think legendry parties and extravagant balls, and picnics and polo, and ballet and opera; think beautiful, carefree people living the high life and making hay while the sun shone, oblivious of the revolution that was soon to come.
All of this forms the backdrop to Song of the Nile. For Aida, Cairo is a special place, epitomising all that she loves about Egypt. In this colourful, cosmopolitan city, she feels that she is where she belongs.