In Song of the Nile, set in the 1940s, Aida's drawing room was decorated by her mother, who 'needed beauty all around her'. Along with fine carpets from Turkey and Iran and antique Chinese vases, the room boasts 'oil paintings by David Roberts, Prisse d'Avesnes and Augustus Lamplough, which depicted the landscapes of Ancient Egypt, the River Nile, the desert, as well as scenes from Egyptian life'.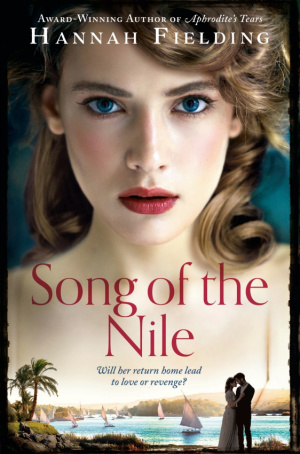 Song of the Nile: available to buy now
These are the kinds of landscapes that adorned the walls of my own home growing up, and they stirred the romantic and the dreamer in me.
Émile Prisse d'Avennes (1807–1879) was a French archaeologist who lived in Egypt for many years, working for the viceroy of Muhammad Ali Pasha as a civil engineer. He immersed himself in Egyptian culture, speaking Arabic and practising Islam. His lithographs of Egyptian life were featured in the book Oriental Album, by the writer and traveller James Augustus St. John of Carmarthenshire, Wales.
Augustus Osborne Lamplough (1877–1930) was an English artist and a lecturer at the Leeds School of Art who built a reputation for his watercolours of North Africa. His works had a signature calm, dreamy tone – as if, it was said, 'he painted everything as it would be seen within an hour of sunset'.
But far better known – and my personal favourite of the three – was David Roberts (1796–1864), a Scotsman.
Roberts had started out as a house and scenery painter but eventually decided to try to make a living as a painter. In the 1830s he travelled to North Africa, planning to make watercolour sketches on which he would later base painting and lithographs for sale to the public.
Over 11 months, Roberts toured Egypt, Nubia, the Sinai, the Holy Land, Jordan and Lebanon. Then, back in Britain, Roberts worked with lithographer Louis Haghe to turn his sketches into plates for his publication, The Holy Land, Syria, Idumea, Arabia, Egypt, and Nubia. Published in two parts between 1842 and 1849, it featured 250 lithographs and was one of the most costly publications of the century. Roberts cleverly raised the funds for the work through advance subscriptions, and his most esteemed subscriber was Queen Victoria.
The work caused something of a sensation, for the scenes were very much in vogue and Roberts had captured them so evocatively. The work was praised by Victorian art critic John Ruskin as a 'true portraiture of scenes of historical and religious interest' and 'faithful and laborious beyond any outlines from nature I have ever seen'.
Here are just some of the wonderful artworks Roberts created inspired by his time in Egypt.
Great Hall at Karnac
Temple of Abu-Simbel
Temple of Abu-Simbel
The Great Sphinx
Temple of Edfou
Temple of Philae