'You shall go to the ball, my dear'… Ah, how I remember loving those words of the classic fairy tale 'Cinderella', told to me by my governess at bedtime when I was a young child. I very much wanted that magic wand and the power to whoosh into existence stunning and beautiful dresses!
These days, I write my own stories, and it's a thrill to weave a little fairy godmother magic when I dream up the formalwear outfits for my heroines. I wholeheartedly embrace the ethos of Coco Chanel: 'A girl should be two things: classy and fabulous.'
I dream up formal outfits that make the most of a heroine's natural beauty, and that make her feel not like a child playing dress-up but like herself – resilient, intelligent, determined, proud, passionate.
Here's a little look at some of my 'fairy godmothering' in my novels. Ralph Lauren famously said, 'I don't design clothes. I design dreams.' As a novelist, I am very fortunate to be able to design dreams for heroines in this way, and send them on their way to the ball (or party, or theatre) looking fabulous.
The Echoes of Love
Architect Venetia has been busy preparing for a photography exhibition of all the mosaic and mural restoration work she has done in Venice. This event is a very big deal for her career: the firm hopes to attract new clients by showcasing its work, and very important guests have been invited. Venetia needs to 'dress to impress'.
Standing in front of her cheval mirror, Venetia studied herself with critical eyes. She wore a blush silk chiffon bustier-gown that showed off the curve of her shoulders and delicate collarbones. From the cleavage of the snug, draped bodice, the petal-thin fabric fell in a cascade of romantic folds to the floor. The internal corset, which consisted of an under-wired bra and boned waist, moulded her to perfection, ensuring a statuesque silhouette.

… She chose her accessories with care, not wanting to overpower the dress. After going through her jewellery box, she finally chose a dainty pair of shoulder-grazing eighteen-carat gold and diamond zigzag earrings, and a matching lightning-bolt gold and diamond bracelet. Just before glancing into the mirror for the last time, she slipped on transparent pin heel sandals – ones she had bought in the eighties and which were still very fashionable – that maximised the floor-sweeping cut of her dress. She took a deep breath; she was ready to go.
Masquerade
This novel is set in the 1970s, when a sexual revolution was taking place in Spain. Here is Luz all ready for an evening at the theatre:
She wore a midnight-blue silk-chiffon full-length dress, which skimmed her body and moulded her form to perfection. Its deep colour reflected in her large eyes, giving her irises a violet tint and setting off the radiant nature of her skin, which glowed even more warmly under her newly-caught tan from the beach. The dress had a plunging neckline and a knotted bodice from which the skirt fell into a profusion of soft folds. A fabulous necklace cascading with different-sized gold beads hung down to her cleavage, ending in a cluster of small gems fashioned as grapes. She had teamed it with a matching pair of earrings and stiletto sandals. Her long raven-black hair was tonight worn loose to the hips and acted as a cloak around her naked shoulders. The whole effect was striking.
Aphrodite's Tears
The heroine of my novel Aphrodite's Tears, set on a Greek island, is an archaeologist, but she also has a passion for fashion, and that comes through in my writing. It felt natural for me to explore style in this book, as I love the romanticism of Greece and its fashion scene; I bought my wedding dress there, after all. Here, Oriel is getting ready for a meal with her boss, the dashing Damian.
And now there was the problem of deciding what to wear. She looked through her wardrobe with a critical eye, trying to anticipate Damian's reaction to each dress. She was thankful for her usual extensive wardrobe, not knowing what to expect. From experience, she had learnt that Greeks, like most Mediterranean people, took great care and pride in their appearance and consequently didn't hesitate to dress up, rather than down like the English, who branded that sort of behaviour vulgar. It was a trait that she loved, giving her the excuse to indulge her own love of clothes.

Eventually she chose a Malcolm Starr dress in fuchsia silk with a low V cut front and back, which revealed just enough skin to be sexy without being outrageous. Although Oriel had a beautiful figure, she had never had the stick look to which so many women of her generation aspired. Her soft rounded curves were in all the right places, with a bust and hips of roughly equal size and a narrow waist. The only jewel she wore was a hammered gold brooch representing the head of a horse, with an emerald eye that made it seem almost alive, designed by the sculptor Georges Braque and the well known goldsmith Baron Héger de Lowenfeld.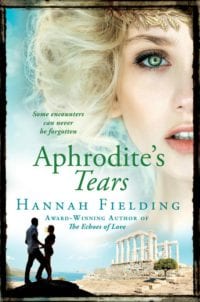 Concerto
At the start of Concerto, Catriona is a girl on the cusp of womanhood who dreams of becoming an opera singer. A talented student at the Conservatoire à Rayonnement Régional de Nice, she is to sing in a competition that will win her entrance to the prestigious Conservatoire National Supérieur de Musique et de Danse in Paris. She needs an outfit that will help her transform into Madam Butterfly.
With just minutes to go before she went off to the concert hall, Catriona was in her room, zipping up her dress. When she surveyed herself in the long cheval mirror she was amazed at her own transformation. Her gown was a warm yellow, cut in simple and subtle lines from cascading chiffon that she and Marguerite had bought after she'd been chosen as one of the two finalists. Its sunny colour reflected its golden tones on her already tanned skin. The long, elegant dress was of Grecian inspiration, crafted with a wrap-effect front and nipped in at the waist. The fluid design had a full skirt that moved gracefully when Catriona walked 54 and the deep V neckline revealed just enough cleavage to be seductive without being too provocative.

For the occasion Marguerite had lent her daughter a simple, classic Zolotas necklace in hammered twenty-two-carat yellow gold with matching earrings, which added the last glamorous touch to Catriona's outfit. Slipping into delicate gold stiletto sandals, she glanced once more at her reflection in the mirror for reassurance.
Song of the Nile
Aida is invited to a royal charity ball on Gezireh Island, which is the perfect reason to go shopping in Cairo. Now, she can cast off the sober clothes that reflect her experiences in wartime London and explore the new fashions of the 1940s inspired by the latest Parisian trends. She chooses an exclusive new design by Balenciaga (a fashion house founded in 1917 in Spain by designer Cristóbal Balenciaga – 'the master of us all', according to Christian Dior).
Aida couldn't help a smothered gasp as she viewed herself in the mirrors that showed off every aspect of her habiliment. The gown's sweetheart shaped bosom had a band made out of gold leather strips embroidered with multicoloured pearls, stones and sequins. A thin, intricate filigree spaghetti strap with a similar embellishment rose from the band and encircled Aida's slender neck in a sparkling halter style. The tight bodice of lustrous midnight-blue taffeta flared into a short full skirt that billowed over a longer, full-length one. On one side of the waistline was a repeat of the bodice motif, a lavish bejewelled cluster in the shape of a horseshoe that drew attention to the fitted waist, while the shimmering weave of the material reflected the blue of her eyes and darkened them.
---
Photo credit: Dmitry_Tsvetkov/Shutterstock.com.