In 1938, Aida flees her homeland, Egypt, desperate to escape the gossip after the death of her father upon being found guilty of a crime. She goes to England, where her mother's brother lives, and tries to build a new life.
Since she was a child, Aida has dreamed of being a nurse, and with her uncle's help, she enrols as a trainee nurse at the Royal London Hospital. Soon, war breaks out in Europe, and Aida is thrown in at the deep end, nursing soldiers maimed at Dunkirk and treating the wounds of burned pilots from the Battle of Britain, as well as looking after injured civilians caught in the Blitz.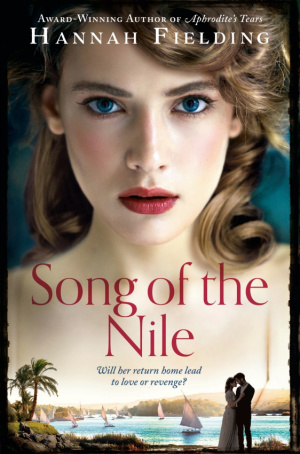 Song of the Nile: available to buy now
The war years are long and incredibly hard on everyone, including Aida. But she takes strength from nurses who have come before, Florence Nightingale and Edith Cavell, and a courageous nurse of the current war, Mary Lindell.
Florence Nightingale was a nurse in the Crimean War, and she is widely regarded as the founder of modern nursing. She is remembered as 'The Lady with the Lamp', because she would check on patients at night by lamplight.
Florence made nursing a profession. Having organised the nurses caring for wounded soldiers at Constantinople, she went on to found the world's first school of nursing at St Thomas' Hospital, London. This, of course, was at a time when women did not work widely.
Her legacy lives on, not just in modern nursing but in the International Nightingale Medal, which to this day is given to the most distinguished nurses, and in the Nightingale Pledge, which is made today by American nurses:
Before God and those assembled here, I solemnly pledge;

To adhere to the code of ethics of the nursing profession;

To cooperate faithfully with the other members of the nursing team and to carry out faithfully and to the best of my ability the instructions of the physician or the nurse who may be assigned to supervise my work.

I will not do anything evil or malicious and I will not knowingly give any harmful drug or assist in malpractice.

I will not reveal any confidential information that may come to my knowledge in the course of my work.

And I pledge myself to do all in my power to raise the standards and prestige of the practical nursing;

May my life be devoted to service and to the high ideals of the nursing profession.



Statue of Florence, Waterloo Place, London
Edith Cavell was no doubt inspired by the legendary Florence. Edith was a nursing heroine of the Great War who famously helped not only Allied soldiers but those of the Central Powers. Tragically, in 1915 she was executed by firing squad for her part in the escape of 200 Allied soldiers from Belgium (occupied at the time by the Germans). On her memorial in St Martin's Place, London, are inscribed her final words:
Patriotism is not enough. I must have no hatred or bitterness towards anyone.
Edith Cavell Memorial
Mary Lindell followed in Edith's footsteps. She joined the Société de Secours aux Blessés Militaires (the French Red Cross) during World War 2, and worked on the front line as a nurse. She too nursed soldiers from both sides, and helped Allied soldiers escape to Holland. She said:
What gave me the idea that something was to be done was what Edith Cavell had done in the last war, was necessary and had to be done in this war. Who? There was nobody in Paris, or nobody who could do it, so I said there you are, darling, you are to do it.
For her actions, she was arrested, and she too was executed. Her tragic story was widely reported in the press, and a memorial service was held at St Paul's Cathedral, followed by a state funeral at Westminster Abbey – she was the first female non-noble to be honoured in this way.
Tempsford Memorial to women who served as secret agents in occupied Europe, including Mary; Bedfordshire
Such strong, brave women – an inspiration not just to nurses like Aida, but to us all. May we always remember and honour these nurses.
---
Photo credits: 1) Grisha Bruev/Shutterstock.com; 2) Man vyi/Wikipedia; 3) Prioryman; Wikipedia; 4) Peter Skynner/Wikipedia.