Cooking is one of my great passions in life. I love to try out new recipes, and researching a novel gives me the perfect reason to explore a new cuisine. I especially love to cook with home-grown fruits, vegetables and herbs, and the olive oil made from the olives harvested at my home in France.
In my novel Aphrodite's Tears, for example, Oriel and Damian are very fond of mezedes, appetizers served before or with the main dishes. They come in individual small plates with various dips such as tzatziki. My favourite of them is dolmades, vine leaves stuffed with rice and vegetables, and spanakopitakia, small triangular filo pastries filled with spinach and feta. I have learned to make these myself using ingredients from my kitchen garden, and my guests always ask for more.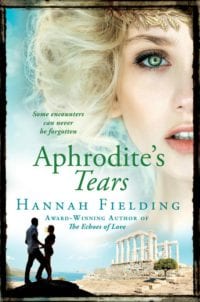 Aphrodite's Tears: available to buy from my shop
I would love to write my own literary cookbook! I love the idea of a recipe collection inspired by the settings of my fiction and their authentic dishes. The Outlander Kitchen by Theresa Carle-Sanders is a wonderful example of this kind of cookbook, inspired by the Scottish setting of the Outlander series of novels by Diana Gabaldon. It features recipes that are akin to what characters would have eaten in 18th-century Scotland, such as bannocks and mock-turtle soup.
Literary Feasts by Barbara Scrafford is another super cookbook written in this vein, with recipes for dishes that feature in a range of classic works of literature, from Charlotte Brontë's Jane Eyre to Leo Tolstoy's Anna Karenina, and so is The Book Lover's Cookbook by Shaunda Kennedy Wenger and Janet Jensen.
You can have Dinner with Dickens and Tea with Jane Austen (both by Pen Vogler), and dine like Shakespeare with The Food of Love (by Alan Deegan and Alycia Smith-Howard) and The Shakespeare Cookbook (by Andrew Dalby and Maureen Dalby).
For fans of children's literature, The Little Women Cookbook by Wini Moranville and The Anne of Green Gables Cookbook by Kate Macdonald offer a range of recipes for the foods in the stories. Fantasy readers can try recipes inspired by the Harry Potter novels, with the Unofficial Harry Potter Cookbook by Dinah Bucholz, and there's even a Game of Thrones-inspired recipe book, A Feast of Ice and Fire by Chelsea Monroe-Cassel and Sariann Lehrer, with recipes inspired by the rich details of the novels (but minus the dragon eggs!).
I also rather like the idea of a cookbook inspired not only by fiction but by the writer's life and experiences. The Artists' and Writers' Cookbook, edited by Natalie Eve Garrett, is a wonderful collection of personal, food-related stories and recipes from 76 artists and writers. And I thoroughly enjoyed Hallelujah! The Welcome Table: A Lifetime of Memories with Recipes and Great Food, All Day Long by Maya Angelou, who said of her decision to write cookbooks: 'Writing and cookery are just two different means of communication.'
Do you enjoy literary cookbooks? Which food from a novel would you most like to try? I would love to hear your thoughts.