View from the lush gardens of the hotel (source)
My novel Song of the Nile is set in 1940s Egypt, a time of glamour and frivolity for the upper classes, of making hay while the sun shone in the aftermath of the Second World War. Think men in sharp suits and women in beautiful gowns; think balls and dances and parties; think luxury and splendour and joie de vivre.
Several iconic venues for such festivities feature in my novel. I have written here before of the 'garden island' of Gezireh, Cairo, and its famous sporting club; of the Khedivial Royal Opera House; and of the Shemla department store.
Today I'd like to take you on a virtual visit to another location from Song of the Nile, a hotel at which Aida attends a party with her friends. The Mena House Hotel is such a beautiful and historic spot in Cairo and it is the very epitome of beauty and grandeur.
The grand reception hall (source)
Here is how I describe the hotel in Song of the Nile, as Aida sees it:
The Mena House Hotel was almost as impressive as the monuments in whose shadow it nestled. Built on the edge of the desert in a beautiful garden and dominated by the Great Pyramid, it had originally been Khedive Ismail's hunting lodge until it was bought by Ethel and Hugh Locke-King, who had turned it into a luxurious hotel. Arabesque in design, it covered a huge space, combining the comforts of modern life with the joy of sand and sky. Luxurious and expensive, yet it had a homely air, its wide doors welcoming guests and making them feel at ease, as if they belonged.

The long, low building with its white façade, flat roofs, elaborate balconies and terraces paved with old tiles and mosaic floors, and its dark mashrabiya, was reminiscent of the world illustrated in the tales of The Thousand and One Nights. It boasted large and comfortable salons with carved wooden doors and brasswork, and a delicious Moorish dining room lit by a galaxy of antique lamps.

Over the years, annexes and terraces had been added to the main building of which the popular garden café was one. In 1937 it had been expanded to include an al fresco dancefloor and it was on that terrace where Phares and his friends were congregating this evening.
The hotel, conceived as a fairy-tale palace (source)
'Mena', you may be interested to know, is derived from the name of the pharaoh Menes, who united Upper and Lower Egypt and founded the First Dynasty. Since it was opened as a hotel in 1886, Mena House has been visited by many notable guests, including royalty (King George V and Queen Mary of England, King Farouk of Egypt, King Gustav of Sweden, King Umberto of Italy) and cultural icons (Arthur Conan Doyle, Agatha Christie, Roger Moore, Cecil B. DeMille, Charlton Heston, Frank Sinatra, Evelyn Waugh, Charlie Chaplin). It's been the location of important military planning (Roosevelt and Churchill met here to strategise during the Second World War) and peace talks (representatives of Egypt and Israel met here and their discussions were a foundation for the Camp David Agreement).
The Churchill suite (source)
I felt it fitting that Aida attend a party at this hotel in particular in Song of the Nile because it creates a juxtaposition between the wartime and post-war periods. Aida was a nurse in the war, helping soldiers and wounded civilians in London; Mena House, meanwhile, was used during the Second World War as a hospital for injured troops. What a difference just a couple of short years make! Now, Aida is here dressed in all her finery, not a nurse's uniform, and is enjoying a very refined evening in a beautiful and elegant hotel that is no longer a hospital. It's quite the sea change, and Aida can't help but notice that she is attending a show of sorts – of power, of prestige. I write:
The ladies deposited their wraps and, piloted by Phares, made their way to one of the small tables that had been reserved for them in the garden café, dimly lit by candles and small lanterns hidden in the trees. The tables were crowded close together, colourfully decorated with smilax and roses. The place was thronged with beautifully dressed women and men in conventional black and white or dress uniform, with rows of medals adding vivid touches of colour. Aida saw the scene as a glittering kaleidoscope of elegance, aristocracy, money and power.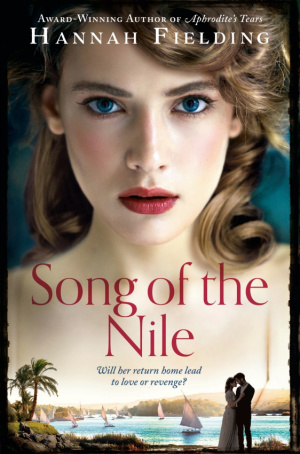 Song of the Nile: available to buy now
Aida's attention is not entirely captured by the party, for how can one sit on the terrace of the Mena House Hotel and not be drawn by its most spectacular neighbour? Here, Aida may sip her drink and look upon a structure that existed well before the palatial hotel and will no doubt endure long after it is dust: her view is of one of the Seven Wonders of the Ancient World, the Great Pyramid, built 4,500 years ago. It's an awe-inspiring sight.
A velvety, windless night had descended over the countryside. There existed a strange contrast between the crowded, noisy terrace with its bevy of guests in glamorous glittering eveningwear, drinking, eating, chatting and flirting, and the peaceful stillness of the ancient land of Egypt surrounding them. Beyond the hotel's garden walls lay the desert, secret and mysterious, and tiny villages with patches of dense shadow and flickering lights, and here and there the blaze of a small open café. A radiant luminescence lay on the pyramids and desert. The tall group of palms lifted its branches calmly into the glory of the moonlight.
I wrote the descriptions of the Mena House Hotel based on wonderful memories I have of staying there, in a room with a balcony looking on to the Pyramids. It really is a view par excellence, making this hotel a very special place.