Can you believe that I have been writing this blog for a decade? In fact, this month marks my ten-year 'blogaversary'. Over the years, I have written blogs on so many different topics, from romance to reading, history to art – and, of course, my novels. Today, I thought I would take you on 'a novel tour' of my favourite blogs relating to my books.
Burning Embers
An interview with Rafe de Monfort, hero of Burning Embers
An interview with Coral Sinclair, heroine of Burning Embers
The creatures of African legends
The setting for Burning Embers: Mombasa
'We chase dreams and embrace shadows': Anatole France
The Echoes of Love
The wisdom of Confucius for a lost and lonely heart
A most Venetian collectable: Murano glass
Dorsoduro, Venice: Home for a creative soul
The masks of the Venice Carnival
The fragility of Venetian beauty
In his own words: Paolo Barone
Indiscretion
The secret language of the Spanish fan
Machismo: a positive or a negative quality?
The era of Indiscretion: 1950s Spain
'In Spain blood boils without fire': The power of the proverb
Alexandra: The motherless daughter
A little tour of the Alcazar, Seville
Masquerade
10 things I love about Andalusia
Written in the stars: The power of fortune telling
Luz: A heroine of the sexual revolution
Finding inspiration at the San Sebastián Castle, Cadiz
The Moorish legacy in Andalucía
Duende: the artistic flamenco spirit
Legacy
Seville's Plaza de España, the most beautiful in Spain?
The colourful character behind the wisdom of Legacy
Taking inspiration from the Andalucían almadraba
Castanets and Spanish folk dancing
Career matters… when it comes to romance
All the world's a stage: a Shakespearean echo in Legacy
The legend at the heart of Andalucían Nights
Believing in fate, honouring the Fates
Aphrodite's Tears
Birds as omens: divination the Ancient Greek way
Sun, sea and sky: a scenic tour of Aphrodite's Tears
Fear of failure: a driving force, or one that hinders?
The sea casts its spell: sailing to the Bandits' Lair with my hero and heroine
He who fights sharks: My scarred hero, Damian
Underwater archaeology: the Roman galleon shipwreck that inspired my writing
Making beauty out of tragedy: the tears of Aphrodite
A Greek gastronomic tour through my novel Aphrodite's Tears
Calypso and Odysseus: a tale of love, or bewitchment?
Concerto
Muse: The woman in the shadows
Views of Lake Como: 'a spot blessed by heaven'
The classical music that inspired Concerto
Music: the language of passion
The blind hero: finding hope in adversity
Weathering the storms in my novel Concerto
A man in the shadows: Light and darkness in Concerto
La Traviata, Madam Butterfly and Carmen: operatic inspirations for my writing
Caught in a tangled web: The secretive heroine
Song of the Nile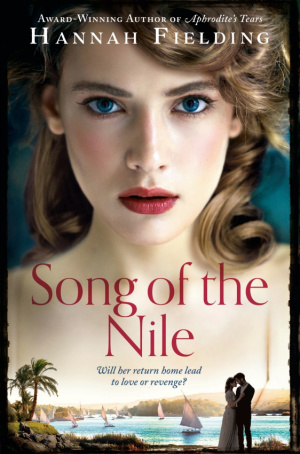 Meet the heroine and hero of Song of the Nile
Source of life: the mighty Nile of Egypt
A caged bird? The place of a woman in 1940s Egypt
Mysterious giants: The pyramids of Giza
Aida: an opera of love and tragedy
'Flying without wings': the Arabian horse in Song of the Nile
Protecting Egyptian antiquities