My favourite work of English literature is Jane Eyre by Charlotte Brontë. The heroine, Jane, was orphaned at a young age and sent to live with her uncle's family, who were cruel and heartless. Charlotte Brontë herself had lost her mother as a young girl and no doubt infused her writing with all her grief surrounding the loss. She created in Jane a heroine with great strength and passion – a heroine to inspire.
In my novel Song of the Nile, it pained me to make the heroine, Aida, an orphan like Jane, but it was necessary for her characterisation. At the core of the book are Aida's isolation, her independence and her extreme difficulty in leaning on others because she is so used to standing alone. And, importantly, at the core of the book is Aida's anguished quest to seek retribution for her father's death.
But to understand how the loss of her father drives Aida, we must first go back in time to the loss of her mother. Aida was only seven when her mother was diagnosed with cancer and then passed away quickly afterwards. The housekeeper, Amina, stepped in to act as a second mother to Aida, and so she did not want for love, attention or discipline. She grew up with touches of her mother all around, preserved in the house, which kept her memory alive. When Aida returns home at the start of the novel, a young woman who has spent years away, she is struck by both the absence of her mother and her presence:
Aida smiled at the familiar surroundings. A nostalgic pang of sorrow gripped her heart. Her father always said that her mother's hand was to be seen everywhere in the elegance of the Karawan House interiors. She needed beauty all around her, as he had put it. The room was still as Aida remembered it. Painted a sunny yellow, its walls were adorned with oil paintings by David Roberts, Prisse d'Avesnes and Augustus Lamplough, which depicted the landscapes of Ancient Egypt, the River Nile, the desert, as well as scenes from Egyptian life. The golden oak floor was covered with fine antique carpets from Iran and Turkey and at each end of the beautifully proportioned room a fine Adam fireplace was surmounted by a gilded mirror. Both were lit in winter as the nights in this part of the world, contrary to the mild daytimes, were bitterly cold. Beautifully inlaid demi lune tables in satinwood stood on tapered legs between the windows, topped with antique Chinese ochre vases made into lamps, and in the middle of the room a large round table held a vase which Dada Amina always made sure to fill with sweet-smelling flowers from the garden, even when the house was empty. A set of deep-seat sofas and armchairs upholstered in pale celadon green damask faced each fireplace; Aida remembered nestling with her mother as a small child on one of those voluminous sofas while she read her stories, feeling the comforting rise and fall of Eleanor's breathing against her cheek. Growing up, all she had to rely on were memories such as these, and the reminiscences of her father and Dada Amina.
After all Aida has been through – losing her father in unbearably tragic circumstances, fleeing her home in Egypt to live in England, nursing soldiers and civilians with terrible wounds in the Blitz of London – she could do with the unconditional love and support of her mother. She does not open herself to that grief, but it is there, beneath the surface, and we see it in the way she carries remembrances of her mother with her at times – a bracelet, an evening bag, a dress.
Had Aida only lost her mother, she would have coped, I imagine. She would have been sad, of course, but not terribly damaged by the loss, for her father and Amina did such a wonderful job of raising her. But when Aida loses her father in her teenage years… then her life is torn apart.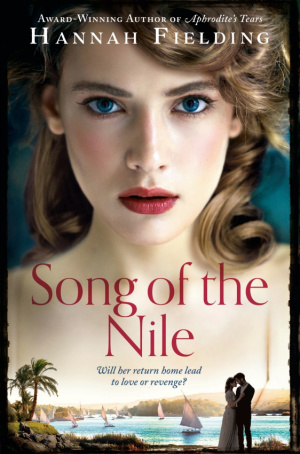 Song of the Nile: available to buy now
Jane Eyre is a famous orphan from literature, and others that spring to mind are Cosette of Les Misèrables and Oliver Twist. Two things they have in common: they were orphaned as young children and they subsequently discovered that the world can be a cruel place. Aida was older when she was orphaned, but she absolutely makes the same discovery upon the death of her father. He did not die peacefully of natural causes. He had a heart attack induced by the stress of being in a courtroom, found guilty of a crime he did not commit. He was the victim of a great injustice, betrayed by his best friend. He was taken from her, and he spent his last moments in mental and physical agony.
This is a loss that crushes Aida; it is an end of innocence, of childhood. She flees the scandal for England, her mother's home, but there she is thrust further from the security of her former life:
If the death of her father had begun Aida's passage to adulthood with a cruel jolt, the crucible of war completed it in a baptism of fire.
Time is a great healer, so goes the proverb, and during her time away in England, Aida grows into a resilient, determined young woman. But does she heal? I write:
Yet while she was able to help mend the broken bodies of so many casualties of war, she carried her own pain inside like an angry wound that would not heal. Now, after what seemed a lifetime away from her country, she was back in Egypt … here to clear her father's name.
Aida cannot heal until she has uncovered the truth and seen justice done; she must restore her father's honour. All of this comes from her deep love for him, and her mother. She is, throughout the book, a grieving daughter, a lonely orphan.
Yet Aida need not be lonely in her quest. Phares, a family friend, would help her if only she would let him. He knows her family well, and he had great respect for her father. He understands grief: he lost his own mother in childhood. He is a principled man who believes in truth and justice. And he cares for Aida a great deal.
For an orphan used to standing alone in a world that has proved unsafe and unjust, trusting another is so difficult. Can Aida let down her guard and allow someone to help her? To love her, even? When one has lost love… oh, how frightening to open up to it once more. Will Aida allow being orphaned to define her entirely, or can she build a new life, one where she is loved as she deserves to be – as her parents would have wanted her to be?
---
Photo credit: Kertu/Shutterstock