Scottish writer Robert Louis Stevenson (1850–1894) is well remembered for his novella Strange Case of Dr Jekyll and Mr Hyde. But beyond the dark workings of the human mind, he had a keen interest in travel.
In his lifetime, Stevenson travelled a great deal, and his travels inspired his writing. He wrote essays on his travels, and his passion fed into his fiction: Treasure Island, after all, is a wonderful adventure far from home. But it is in his poetry that his love for travel is most evident. He devoted an entire collection to the theme, Songs of Travel and Other Verses. But my favourite of his poems is this, simply entitled 'Travel', from A Child's Garden of Verses:
I should like to rise and go
Where the golden apples grow;—
Where below another sky
Parrot islands anchored lie,
And, watched by cockatoos and goats,
Lonely Crusoes building boats;—
Where in sunshine reaching out
Eastern cities, miles about,
Are with mosque and minaret
Among sandy gardens set,
And the rich goods from near and far
Hang for sale in the bazaar,—
Where the Great Wall round China goes,
And on one side the desert blows,
And with bell and voice and drum
Cities on the other hum;—
Where are forests, hot as fire,
Wide as England, tall as a spire,
Full of apes and cocoa-nuts
And the ***** hunters' huts;—
Where the knotty crocodile
Lies and blinks in the Nile,
And the red flamingo flies
Hunting fish before his eyes;—
Where in jungles, near and far,
Man-devouring tigers are,
Lying close and giving ear
Lest the hunt be drawing near,
Or a comer-by be seen
Swinging in a palanquin;—
Where among the desert sands
Some deserted city stands,
All its children, sweep and prince,
Grown to manhood ages since,
Not a foot in street or house,
Not a stir of child or mouse,
And when kindly falls the night,
In all the town no spark of light.
There I'll come when I'm a man
With a camel caravan;
Light a fire in the gloom
Of some dusty dining-room;
See the pictures on the walls,
Heroes, fights and festivals;
And in a corner find the toys
Of the old Egyptian boys.
These words, from the perspective of a young boy, really spoke to me when I was a child. I loved that this little boy dreamed of travelling to my own homeland, Egypt, as though it were some exciting, fascinating, thrilling place for adventure – as, I came to realise, it was. Especially the ancient sites in the desert:
Where among the desert sands
Some deserted city stands,
All its children, sweep and prince,
Grown to manhood ages since…
I loved how Stevenson articulated this keen desire to explore, to journey; it was something I felt so deeply, and this feeling had in good part been inspired by the stories I read and those that were told to me by my governess. I dreamt of the big, wide world with all the fervour of a child whose imagination knew no bounds.
When I was grown, I did travel: 'There I'll come when I'm a (wo)man'. I visited so many different places 'below another sky', each a blend of beauty and realism, from cityscape to landscape. To this day, I feel that desire to 'rise and go' – to see, learn, experience, broaden my horizons.
This, I am sure, is the reason I am compelled to have such a strong sense of place in my own fiction; to try to transport the reader to Italy or Spain or Greece with my descriptions. I want to infuse my readers with that passion for travel; to help them feel all the wonder and thrill of a child dreaming of the big, wide world. I want to inspire them to 'rise and go'. As Stevenson wrote:
I travel not to go anywhere, but to go. I travel for travel's sake. The great affair is to move.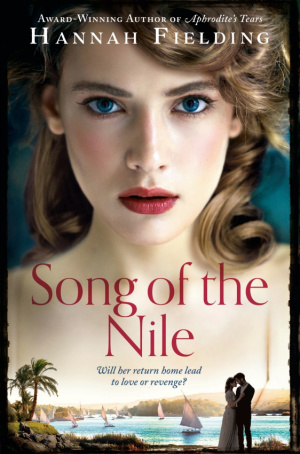 Song of the Nile: available to buy now
---
Photo credit: Andrej Privizer/ Shutterstock.com.