Of course, wherever you are at Lake Como, the beautiful blue waters draw the eye. Here is the first impression of Catriona, heroine of Concerto:
Under bright sunlit skies the view of Lake Como was wondrous to behold. A deep sense of serenity overcame her as she stared in rapture at the expanse of blue that lay before her. The lake was the finest of mirrors, never reflecting exactly what was above but converting it to an image so beautifully smudged and broken.
Catriona travels across the lake on a ferry, and finds the view nothing short of spectacular. The romantic, historic villas and their lush gardens really capture her imagination.
Although Catriona had been tired she found the slow and leisurely ferry ride over the lake exhilarating and almost heart-stopping in its beauty – a lyrical gouache of colour stabbed at intervals by the solemnity of the stately cypress, a tree very much native to Italy. On both sides of the boat the magnificent rocky shores were studded with the gardens of Italian belle-époque villas, crowded with a wealth of rare trees, exotic flowers and broad lawns, with narrow pink or mellow yellow stone staircases that went down to the edge of the lake. As the ferry glided past, her vivid and romantic imagination conjured up bygone scenes of gentlemen in striped blazers, flannels and straw boaters, accompanied on deck by ladies in long dresses, side-buttoned kidskin boots and holding parasols.
Villa Carlotta
Villa del Balbinello
Dotted along the coastline and climbing up the hills are colourful and characterful little towns, like Bellagio, of which the French novelist Gustave Flaubert wrote, "One could live and die here. The outlook seems designed as a balm to the eyes."
Bellagio 
Menaggio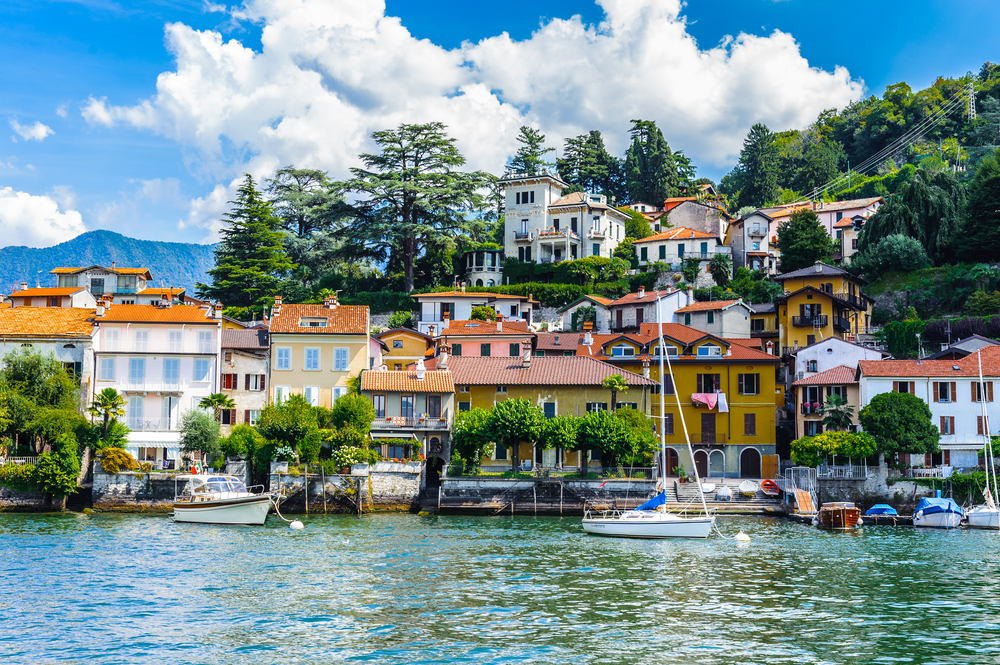 Torno
The backdrop to all this splendour is the mighty mountains, rugged and imposing.
Towering over all, and filling half the round of the horizon, reared the mighty Alpine chain with its base wrapped in a robe of imperial purple, flinging its countless crests towards the blue heaven like the defiant arms of the mythic Titans.
Wherever you look, you are dazzled by light and colour, and the views are so beautiful, they create a sense of wonder, of peace. Of timelessness.
In the warming rays of the afternoon sun, fragrant blooms were launching their scent on the balmy air while the boat rocked to the liquid ripple of the lake in the infinite silence.
Of course, a trip abroad is out of the question for many of us right now, but if you'd like to escape to Lake Como and experience a little of its beauty and tranquillity, why not read my novel Concerto?