on
August 7, 2017
at
9:00 am
As part of my FANtastic Fiesta, running until 14 August, I'm giving away three lovely wooden Spanish hand fans, as featured on the covers of my Andalucían Nights trilogy:
No doubt you know that the hand fan is a classic object that blends both fashion and function. But how much do you know about the history of the fan? In this article I will share what I've learned through my research. I hope you find it interesting background, and you feel inspired to enter my FANtastic giveaway at http://hannahfielding.net/fan-tastic-fiesta/ and have your own beautiful fan.
The first recorded hand fans date back to Ancient Greece, but they were not widely used until the 17th century: Japan and China led the way in developing fans, and once traders introduced them to Europe, they were widely adopted as objects of beauty and practicality. Fans were soon deemed the accessory to have, especially for noblewomen and royalty; they feature in several portraits of Queen Elizabeth I, for example.
Many of the fans at this time were rigid, and ladies would hang them from their skirt belt, but soon the more practical and enchanting folding fan came into favour. What was painted on your fan when extended was of great interest, and it became quite the art form to design the leaves: challenging, because at that time the sticks of the fan, made from ivory or tortoiseshell, were closely spaced.
By the 18th century, specialist fan makers existed, and they used a broad range of materials for their art, including silk, while the painting on each fan was more intricate and artistic. The fan really had become an object d'art.
The handheld fan was now an integral part of a lady's attire for dedicated followers of fashion, but it was not only used to impress and beautify. The fan served other core purposes: to cool, to conceal and to communicate. In the 18th century, pallor was considered beautiful in a woman, thus at the fireside they would use a fan to conceal flushed cheeks and to protect heavy makeup. At the same time, in regal courts fans were used to communicate non-verbally. At the end of the century, print designer Charles Francis Badini created the 'Fanology, or Ladies Conversation Fan', which featured instructions for how to use the fan to spell out messages. Here is the fan, as featured by Christies of London:
Of all the European countries, Spain is most associated with the hand fan to this day. The Spanish embraced the fan, and it would become an integral part of the emotional, sensual flamenco dance that evolved in Andalucía. An entire 'language of the fan', the abanico, evolved. For example, holding your fan open and covering one cheek meant 'I like you'; holding your closed fan over your heart meant 'I love you'; waving your open fan quickly at your side meant 'Keep a distance; we're being watched'.
There are some spectacular hand fans on display at the Museum of Costume in Madrid. This one, for example, dates from 1880–1890 and has beautiful peacock detailing:
Here is another, painted in 1829 to commemorate the marriage of King Ferdinand VII with Maria Cristina of Naples: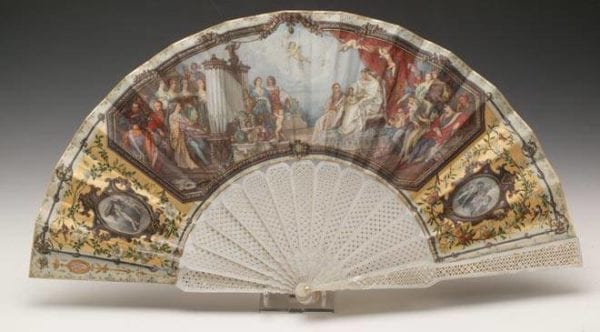 Beautiful, don't you think? If you're interested in fans and you're based in the UK, you can visit a museum dedicated to these items of beauty, practicality and communication: the Fan Museum at Greenwich: https://www.thefanmuseum.org.uk/. There you can see fans from all over the world, such as this one by the iconic Spanish artist Salvador Dali, inspired by Don Quixote by Miguel de Cervantes.
My latest novel, Legacy, is set in Cadiz, a city in Andalucía that is almost entirely surrounded by sea. This is the view from my heroine Luna's home at dusk:
The port of Puerto de Santa María glowed in the distance, accompanied by the steadfast wink of the lighthouse. Fishing boats were still out on the ocean and to the east, the faraway Sierra de Cádiz was edged with the fading sky, making los Pueblos Blancos dim to a soft violet.
The fishing boats are especially intriguing for Luna. Having come from New York, she is no stranger to fresh fish on a menu, but she has never had an opportunity to watch traditional fishermen at work, nor to sample some of the delicious fish available in Andalucía.
At the market, she sees stall after stall heaped with fresh, colourful local produce from land and sea:
Luna paused to admire the day's catch of fish lying on slabs of ice, their silver scales glistening under the neon lights; some of which were specimens she had never heard of. She wondered how they were able to keep them looking still so appetizing in the heat.
'We have the best red tuna in the world, fished locally in Tarifa,' the fishmonger proudly told her.
Later, her new boss Ruy takes her out for a meal at a fish restaurant, and they enjoy a delicious meal of tuna Basquaise: tuna with tomatoes, onions and peppers cooked in herbs, fish stock, white wine and olive oil.
The tuna is caught, Ruy explains, through an age-old practice called the almadraba. The name is derived from the Arabic word meaning 'a place to strike', and the practice dates all the way back to the Phoenicians. Between February and July, the Andalucían fishermen trap tuna in a series of nets.
Eager to learn more about this ancient custom, Luna agrees to accompany Ruy on his yacht, the Vela Gitana (Sailing Gypsy), to the coastal town of Conil de la Frontera, where the fisherman are landing their catches.
En route, they stop off at an island and go snorkelling:
As they sank beneath the surface… the visibility was extraordinary, the water a crystalline blue with beds of coloured coral on the floor of the sea. They drifted further down into a magical underwater garden with an infinite variety of textures and shapes. Rainbow-hued fish cruised by, ignoring the newcomers, weaving themselves in and out of the fields of strange grasses that waved in the submarine currents, darting about and feeding off the fronds and ferns of the sea. Pretty variegated fish and other luminous ones came into vision from time to time…. A group of seahorses floated past and a large fish, which Luna couldn't identify, chased a shoal of smaller fry, swimming only a foot away from her.
The sight of these sea creatures in their natural habitat is beautiful – and makes the sight to come all the more shocking for Luna.
When they reach Conil de la Frontera, Ruy explains to Luna how the almadraba works:
'There's a maze of fixed vertical nets stretching for several kilometres from the coast out to sea… They're attached to floating barrels and corks, kept in place by very heavy anchors. As the blue-fin tuna migrate from the Atlantic to lay their eggs in the Mediterranean, they find their path blocked by the barrier net of the Almadraba. As they try to escape, they enter through a funnel into the cuadra, the holding net made up of several pens, to end up finally in the central pen, the copo, the only one with a horizontal net.'
Luna is intrigued, but when the next stage of the almadraba commences, it makes for difficult viewing:
Ruy led her to a good vantage point not far from the action. They could hear the fishermen's excited shouts and laughter – 'Anda! Vamonos!' – as they hauled in their huge nets.
'Look, the fish are trying to get away,' Ruy pointed to the surface of the sea, which was turning white and frothing as though in ebullition, heaving with a multitude of enormous fish, their fins slicing through the water.
Men armed with sharp knives were jumping into the copo to hook the bluefin tuna, forcing them to the surface and hauling them into the boats, battling for supremacy with the fish, a couple of which looked as if they must be three times the fisherman's body weight. The slaughter had begun.
Now the churning waters had turned blood red. In a frenzy, the huge fish were bucking and roiling, their slithery dark backs arching out of the water in the scarlet urgency of their death throes.
Should Luna have stayed to watch this part? Perhaps not. Ruy is certainly concerned that the sight has upset her. But this is history, right before them, an ancient custom. And history, whether beautiful or gruesome, is important. It has a certain pull. It can, if you let it, define you. So when, on the day of the almadraba, Luna crosses paths with a shadowy figure from her past, she must decide: be like the tuna, trapped and bleeding – or escape the net and swim free?
Earlier this week, I was hunting in my files for a photograph when it struck me just how many images I was browsing through. Since I began blogging here back in September 2011, I have built quite the picture library!
When I write on this blog about the settings for my novels, I love to include photographs, because, so the English idiom goes, 'a picture is worth a thousand words'. In my fiction writing, I have only words with which to transport my readers to the times and places of the story, but on my blog I can add extra depth by including images with my posts.
For this post, I have collated images for each of the settings of my books into collages, so that I can take you on a visual tour of my novels' landscapes.
I hope you enjoy these vistas of my story worlds. I think you will be able to tell, at a glance, why I so love to travel. As Ibn Battuta said, 'Traveling – it leaves you speechless, then turns you into a storyteller'; in my case, a storyteller who is passionate about taking readers on journeys to beautiful, historic, inspiring locations.
In my latest novel, Legacy, the love story begins when the hero and heroine cross paths in Barcelona. I very much enjoyed setting the scene in this colourful, lively city, especially because it is chock-full of works by one of my favourite architects, Antoni Gaudí.
Gaudí was a Spanish architect who lived from 1852 to 1926, and his distinctive Modernist style in architecture has been hugely influential for so many people. Here are six things that I find fascinating and inspiring about Gaudí and his work:
1. His greatest passion, besides architecture and religion (see below), was nature – mountains and caves especially. Many of his works are imbued with this love and admiration of nature, none more so than his magnum opus, the Sagrada Familia; see how the roof above the nave, shown here, looks like overarching tree branches.
2. He envisioned and planned every single tiny detail of his many big works, not on paper, but through creating intricate scale models.
3. He was absolutely dedicated to his Catholic faith, and his works are so beautiful and reverent that some have named him 'God's architect' and called from him to be sainted by the Pope.
4. He was a serious man, and yet not without a playful side. His buildings are often quirky, colourful and eye-catching. Here's one of the most iconic Gaudí symbols, the salamander sculpture in Park Güell.
5. He fused all sorts of crafts into his architecture, from ceramics to stained glass. The Casa Batlló is a wonderful example; Gaudí pioneered the mosaic work on the exterior, made from broken ceramic tiles, which is called trencadís.
[Sources: Alscardoso, Mstyslav Chernov, Massimo Catarinella]
6. He was not afraid to dream big. His vision for the Sagrada Familia, a huge church in Barcelona, was so vast that builders are still constructing the church based on his plans. The finish date, it is hoped, will be the one-hundred-year anniversary of Gaudí's death.
Readers of my Andalucían Nights series will spot an important homage to Gaudí's style. In Legacy, my heroine Luna comes to live in Cadiz in a house that was inspired by a major Andalucían avant-garde architect and Surrealist artist, Eduardo Rafael Ruiz de Salazar. The house, which is right on the beach, is called La Gaviota, meaning The Seagull, and it is designed to look like a bird:
It was a small, two-storey, unusual-looking building with whitewashed walls, interspersed with floor-to-ceiling sliding windows, a domed roof and three terraces. The one at ground level led down to the beach, while the two on the upper floor jutted out on the north-east and south-east sides of the house, like wings of a giant bird about to take flight.
Over the years, La Gaviota has been a haven for artists and writers, who find inspiration in the arresting architecture and the beautiful sea views. Luna, too, finds this home to be a haven, a place where she can free her mind and explore her past and future – a place where her dreams can take flight.
When I envision La Gaviota, there is a good deal of Gaudí in the design. Especially, my mind takes me back to a hot summer's afternoon when I visited Park Güell on Carmel Hill in Barcelona, which is all Gaudí's design. The colours, the lines, the creativity, the boldness, the beauty – it is all so wonderfully evocative; like something out of a romance novel, n'est-ce pas?
For me, Gaudí's work is the perfect exemplification of Goethe's wisdom:
Whatever you can do or dream you can, begin it;
Boldness has genius, power, and magic in it.
There is so much that drew me to the Spanish region of Andalucía when it came time to choose a setting for my romantic trilogy. But given that core themes in the trilogy are roots and legacies, the rich history of the Andalucía was a big attraction.
Andalucía is steeped in history. I have written before about the Moors who ruled 'Al-Andalus', modern-day Andalucía, from 711 to 1492 (see my blog post http://hannahfielding.net/the-moorish-legacy-in-andalucia/), and today I want to focus on another important people who took control of Andalucía and helped to shape its history: the Romans.
The Roman occupation of Andalucía dates back to the sixth century AD. They conquered the region, which was controlled by the Carthaginians, and bought it into their empire, naming it Baetica (part of Spania). It became an important part of the Roman Empire: emperors Trajan and Hadrian hailed from here, and in mythology Hercules was said to have founded the city of Cadiz.
The Romans lost Andalucía to the Moors many centuries ago, and yet their influence is felt still, most especially in the distinctive architecture of the region. The Mosque–Cathedral of Córdoba (the Mezquita) is a beautiful example of Roman-inspired Moorish architecture. It was in fact constructed using materials from Roman buildings, including a temple dedicated to Janus that had stood on the site and the Amphitheatre of Mérida.
For me, original Roman buildings are even more interesting. When I visited Andalucía, I spent some time touring archaeological sites. I especially loved the Roman amphitheatres: the Acinipo, near Ronda; the Italica, Seville; and the Malaga theatre.
[Picture credits: Apinicio Falconaumanni; Malaga Andy Nash; Italica Diego Delso.]
Baleo Claudia, in the Cadiz province, is really stunning. There, archaeologists have uncovered an ancient town, complete with basilica, theatre, market, and the temple of Isis – all at a spectacular stretch of coastline.
I found stepping back into the Roman Empire in Andalucía fascinating – and inspirational. When you read my Andalucían Nights trilogy, you will find echoes of the distant Roman past interspersed in these modern-era stories.
For example, in Indiscretion Salvador considers what makes the Andalucían horses the family breed so special:
'Look at our cartujanos. Over the centuries, their bloodline lost its purity and was injected with new strains that have made it stronger. Today, not only does the blood of their Moorish ancestors run in them, but also that of the Nubian horse, which the Romans used in their chariot races.'
Also in Indiscretion, the heroine Alexandra visits Ronda, and feels a sense of the past when she steps into the bullring:
The following afternoon, La Plaza de Toros in Ronda was drenched with the blinding white glare of a fierce sun. The huge, tragic amphitheatre with its floor of red sand, reminiscent of the Roman arenas of old, had been the scene of many bloody and barbarous combats between man and beast since the end of the eighteenth century.
I could not resist drawing on the Roman influence in my characterisation as well. In Legacy, for example, the heroine finds herself likening Ruy to a Roman god.
He was coming towards her, bare-chested, his eyes shining. He looked like a primitive Roman god and the sexual stir she felt in her belly was instant, confusing her thoughts.
Of course, beyond Andalucía itself, another Roman influence can be found in all my writing – that of the great Roman philosophers, Marcus Aurelius in particular. I will leave you with one of my favourite Aurelius quotations from Meditations, whose sentiment guides my writing hand:
'Dwell on the beauty of life. Watch the stars, and see yourself running with them.'