on
August 7, 2017
at
9:00 am
As part of my FANtastic Fiesta, running until 14 August, I'm giving away three lovely wooden Spanish hand fans, as featured on the covers of my Andalucían Nights trilogy:
No doubt you know that the hand fan is a classic object that blends both fashion and function. But how much do you know about the history of the fan? In this article I will share what I've learned through my research. I hope you find it interesting background, and you feel inspired to enter my FANtastic giveaway at http://hannahfielding.net/fan-tastic-fiesta/ and have your own beautiful fan.
The first recorded hand fans date back to Ancient Greece, but they were not widely used until the 17th century: Japan and China led the way in developing fans, and once traders introduced them to Europe, they were widely adopted as objects of beauty and practicality. Fans were soon deemed the accessory to have, especially for noblewomen and royalty; they feature in several portraits of Queen Elizabeth I, for example.
Many of the fans at this time were rigid, and ladies would hang them from their skirt belt, but soon the more practical and enchanting folding fan came into favour. What was painted on your fan when extended was of great interest, and it became quite the art form to design the leaves: challenging, because at that time the sticks of the fan, made from ivory or tortoiseshell, were closely spaced.
By the 18th century, specialist fan makers existed, and they used a broad range of materials for their art, including silk, while the painting on each fan was more intricate and artistic. The fan really had become an object d'art.
The handheld fan was now an integral part of a lady's attire for dedicated followers of fashion, but it was not only used to impress and beautify. The fan served other core purposes: to cool, to conceal and to communicate. In the 18th century, pallor was considered beautiful in a woman, thus at the fireside they would use a fan to conceal flushed cheeks and to protect heavy makeup. At the same time, in regal courts fans were used to communicate non-verbally. At the end of the century, print designer Charles Francis Badini created the 'Fanology, or Ladies Conversation Fan', which featured instructions for how to use the fan to spell out messages. Here is the fan, as featured by Christies of London:
Of all the European countries, Spain is most associated with the hand fan to this day. The Spanish embraced the fan, and it would become an integral part of the emotional, sensual flamenco dance that evolved in Andalucía. An entire 'language of the fan', the abanico, evolved. For example, holding your fan open and covering one cheek meant 'I like you'; holding your closed fan over your heart meant 'I love you'; waving your open fan quickly at your side meant 'Keep a distance; we're being watched'.
There are some spectacular hand fans on display at the Museum of Costume in Madrid. This one, for example, dates from 1880–1890 and has beautiful peacock detailing:
Here is another, painted in 1829 to commemorate the marriage of King Ferdinand VII with Maria Cristina of Naples: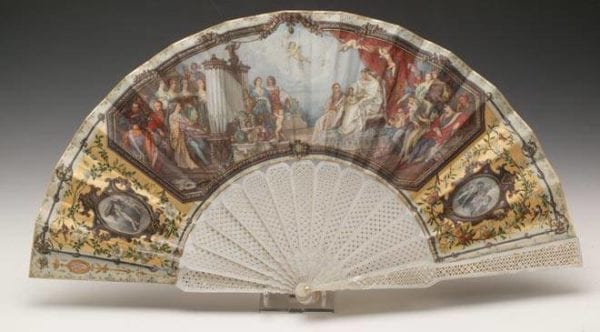 Beautiful, don't you think? If you're interested in fans and you're based in the UK, you can visit a museum dedicated to these items of beauty, practicality and communication: the Fan Museum at Greenwich: https://www.thefanmuseum.org.uk/. There you can see fans from all over the world, such as this one by the iconic Spanish artist Salvador Dali, inspired by Don Quixote by Miguel de Cervantes.
Flamenco – the dance, the music, the culture, the artistic duende spirit – is at the heart of my novels Indiscretion, Masquerade and Legacy, which are set in Andalucía, home of flamenco.
What do you think of when you hear the word 'flamenco'? The rousing, rhythmic, raw music, perhaps – the guitars and the hand-clapping and the singer's cry. Maybe it is the sinuous, sensual movements of the dancers that come to mind. Or perhaps you associate the word with concepts that are inherent in the flamenco art: passion, sexuality, vibrancy, expressiveness…
These concepts are perfectly encapsulated in the costumes that flamenco dancers wear. The dancer's dress dramatically hugs the silhouette, before giving way to ruffles that cascade romantically down. The more ruffles, the better! The dress is the red of blood or the black of night, and often has polka-dots – in fact, polka-dots originated in flamenco attire.
Until 1929, the traje de flamenco (flamenco dress) was worn solely by women in the south of Spain, who devised their dresses themselves and sewed them at home; but then, in that year, women from the upper echelons of society trialled the new style at the Seville Ibero-American Exposition, where it was well received by Spaniards and foreigners alike. Since then, fashion designers have returned to flamenco time and time again in search of inspiration, and this season is no different.
Visit any fashion store and you're bound to find ruffles and polka-dots aplenty in the summer range, but this season you'll also come across a new design: the so-called flamenco flares. Here's a look at some currently on offer from Spanish high-street brand Zara:
Here are some available from another popular Spanish high-street store, Mango:
When The Times reported on the flamenco flares recently, there was an unmistakable tone of unease in the article, a concern that this style is 'outlandish' – 'comic', even – and that it 'may sound alarm bells'.
Of course, everyone has a unique opinion when it comes to fashion, and understated simplicity is always the safest option. But personally, I don't find fashion inspired by flamenco to be outlandish – I think it's fabulous. Flamenco is all about authentic expression, about duende, which, as Federico García Lorca, put it, is a question of 'true, living style, of blood, of the most ancient culture, of spontaneous creation…'.
The word 'flamenco' is thought to derive from 'fire' or 'flame', which conveys the fury and fervour at the heart of the art. To wear a flamenco-inspired design, then, is to embrace that inner flame. 'Erupt into style' begins the Times article; that is exactly what flamenco is all about – erupting, conveying with stark honesty emotion and truth and sexuality.
What do you think of fashion inspired by flamenco? Do you admire a person who wears bold, statement pieces like the flamenco flares? I would love to hear your thoughts.
And if you'd like to explore true flamenco fashion further, the website for the 2017 We Love Flamenco show in Seville is an excellent resource: http://www.weloveflamenco.es. It showcases some spectacular designs that make flamenco flares look extremely tame and conventional in comparison; designs that may just inspire you to be colourful, vibrant and bold in your fashion choices this summer.
Earlier this week I blogged about how high heels can infuse a woman with a sense of style and confidence. While researching the book, I was led on a meandering and enthralling course, which culminated in a wonderful new discovery: the Fashion Fairy Tale Memoir series.
Is there any better feeling than discovering a new book – indeed, books in the plural, in this case – that you adore? I am sure I am not alone in feeling thrilled; and also a little bereft that I had not known of the books before now (as good a motivation as any to perpetually be on the lookout for new books!).
The Fashion Fairy Tale Memoir series was launched by the publisher HarperCollins at the start of this decade, and so far it includes three books. Each fairy tale is reimagined by fashion writer Camilla Morton (American Vogue, The Wall Street Journal) and is illustrated by an idol of the fashion world.
The Elves and the Shoemaker is illustrated by one of my all-time favourite shoe designers, Manolo Blahnik.

Fabulous French fashion designer Christian Lacroix takes Sleeping Beauty into stunning new haute couture territory.
Finally, Diane von Fürstenberg, the designer who introduced me and countless other women to the wrap dress, brings to life 'a grown-up fairytale that teaches women how to feel creative and empowered' in The Empress's New Clothes.
I love this idea of matching writer with artiste to create unique and inspirational books. I wonder, with the growth of visual mediums like video, will text-only books soon be rarities? Will all books have a visual element beyond the cover art?
I would love to create illustrated versions of my own novels, especially Masquerade, in which the theme of Surrealism is of paramount importance. I can imagine the palette of vivid colours, and the abstract interpretations of key scenes with the characters, such as the masquerade ball.
What do you think of illustrated fiction? Have you read the Fashion Fairy Tale Memoir, or do you intend to? Do you agree that fairy tales are not merely for children, but adults too, and that beautiful works like these belong on any romantic, art- and fashion-loving individual's shelf? I would love to hear your thoughts.
Recently, I have been packing up my British home to move to my renovated mas in the south of France, where I summer each year. I have a confession to make: of the many cases stacked ready for transportation, more than oneis devoted to shoes.
High heels: beautiful, artistic, show-stopping heels… Is there anything more indulgent and glamourising? Slipping on a pair of heels gives an instant boost. You walk taller and straighter; you walk with intent and a tangible sense of mastery. For indeed, you are mistress of the heel, having conquered, as a young girl, the knack of balance, of negotiating a paved street without stumbling, of walking as though your feet are as comfortable as on a soft white cloud.
Heels are empowering. Take the following excerpt from my novel Masquerade:
Luz looked sophisticated and business-like in a slick, figure-hugging Givenchy dark suit she had bought in London and a pair of Gucci high-heeled shoes which she matched with a Gucci bag. Her beautiful raven hair was not worn loose as usual; this morning she had it in a braided chignon at the base of her neck. Her eyes, though bright, were tinged with the steely grey that denoted her frame of mind: she was going out there today with the firm resolution of winning.
That resolution of winning? Its foundation is the heels! In a sense, balancing all the weight on those tiny points focuses the mind: you are more purposeful; you mean business. As Marilyn Monroe put it, 'Give a girl the right shoes, and she can conquer the world.'
Of course, those shoes could be flat. In a recent Vogue interview, designer Manolo Blahnik revealed he had told singer Rihanna, with whom he was collaborating, 'You can be sexy and beautiful with a flat shoe.' But she wanted high heels. 'I loved that,' he told Vogue,'and I respect that. I like a woman who knows what she wants.'
And what a woman wants often is beautiful shoes! Of course, I'm not alone in my altocalciphilia (the love of high-heeled shoes). I have no doubt that a key reason for the success of the television show Sex and the City was the heroine Carrie Bradshaw's passion for heels. Here is one of my favourite scenes, in which it finally dawns on Carrie that her shoe-buying habit, while fabulous, is costly:
Where do you think the love for beautiful shoes originates? For me, I cast my mind back to childhood, when my governess would tell me fairy stories, and I remember so well being enchanted by the romanticism of the Cinderella story and, in particular, these shoes:
The glass shoes, enchanted into existence by a fairy godmother, empower Cinders to stand as an equal with her stepsisters, and in doing so she wins the heart of the prince – who subsequently uses the shoe to find her, and then places it reverentlyon her foot. Swoon!
Amy Adams, who played the lead in the recent Disney live-action remake of Cinderella, said, 'I like Cinderella, I really do. She has a good work ethic. And she likes shoes. The fairy tale is all about the shoe at the end.'
Sometimes, though, the true fairy tale commences when the heels are removed. In Masquerade, for example, Luz must remove her shoes in order to take a moonlit walk on the beach:
They walked along the beach in tranquil silence, moving gently beneath a navy-blue canopy patterned with merry stars that winked in the night as though they shared a private joke. The night here was tender. Most of the fishing boats, which had dotted the blue ocean so picturesquely with pinprick lights, had gone. Luz glanced up at him as she carried her shoes, enjoying the sensation of the cool sand between her toes. She was aware of the aggressively male muscled body an inch away from hers. It gave her a sense of security that she had never experienced before.
If heels make a woman feel strong, indomitable, then their removal introduces vulnerability. But to be in love, to be intimate, requires vulnerability. My advice? Wear stunning high heels on a date – but choose a pair your partner can slowly and reverently remove for you.