When Aida is invited to Princess Nazek's annual charity ball, in Zamalek on Gezireh Island, she knows she must go shopping. Her clothes, brought with her from London, where she worked as a nurse during the Blitz, are hardly befitting of a royal gathering. Though that is not to say Aida lacks fashion sense. I write:
Throughout the war years Aida had adopted the Parisian motto that had come out in Vogue magazine in 1941: 'Il faut "skimp" pour être chic'. The phrase referred to the tight, short-skirted silhouette that had replaced the flirty fullness of dresses worn in the thirties. The new sculpted look was driven by the wartime rationing economy, but not only that, it gave the illusion of brisk competence. As Vogue put it, it looked 'sharp, cold and even bold'. If you kept your figure trim, it was most elegant.

This morning she was dressed in what she called 'her staple suit' with black platform shoes. The cut of the suit of grey jersey wool with padded shoulders had been influenced by the austere style of military uniforms. It had a red trim in soft velveteen to brighten it up and Aida wore it over a white crepe blouse with three buttons covered in the same red material, and a red velveteen pillbox hat to match. Although the style was conservative and uniform-like, the tailoring was magnificent.
In preparation for the ball, Aida travels from her home in Luxor to Cairo for a shopping spree. As she walks along a street of shops, she is astonished by the beautiful goods on offer:
Brightly striped awnings shaded the shopfronts. Aida was amazed at the wealth and variety of the merchandise displayed. It seemed you could buy virtually anything in Cairo, though the war was not long past – if you could afford the inflated prices, of course. She couldn't help but feel a little shocked by it all and found herself gazing at the hundreds of silk stockings displayed in all their lustrous, almost forgotten sheen. Such luxuries were nowhere to be seen in London, even on the black market, until the American GIs arrived on British shores in 1942, bringing sought-after nylons in their ration packs. Aida remembered using Elizabeth Arden leg paint to imitate seamed stockings and sometimes, when she was short of cash, gravy browning and cocoa, which were cheaper and just as effective. Aida couldn't help but feel incredulous when she saw the rich panoply of frocks, hats, scarves and filmy underwear; kid gloves and soft leather shoes; creams, powders and expensive bottles of French scent.
In the Shemla department store, Aida heads to the first floor, which houses the spacious haute couture atelier that sells clothes in the latest Parisian trends. I write:
After the fashion starvation she had experienced during the war years, she was overwhelmed by the profusion, diversity and splendour of the elegantly displayed daytime clothes, evening gowns, hats, bags, and accessories. She didn't know which way to turn.
A sales assistant swoops in to help, and after showing Aida several dresses that are beautiful but just not quite right, she offers her the first look at an exclusive new design, Romance à Minuit, designed by Balenciaga.
Aida couldn't help a smothered gasp as she viewed herself in the mirrors that showed off every aspect of her habiliment. The gown's sweetheart shaped bosom had a band made out of gold leather strips embroidered with multicoloured pearls, stones and sequins. A thin, intricate filigree spaghetti strap with a similar embellishment rose from the band and encircled Aida's slender neck in a sparkling halter style. The tight bodice of lustrous midnight-blue taffeta flared into a short full skirt that billowed over a longer, full-length one. On one side of the waistline was a repeat of the bodice motif, a lavish bejewelled cluster in the shape of a horseshoe that drew attention to the fitted waist, while the shimmering weave of the material reflected the blue of her eyes and darkened them.
Balenciaga, if you're not aware, was a fashion house founded in 1917 in Spain by designer Cristóbal Balenciaga – 'the master of us all', according to Christian Dior.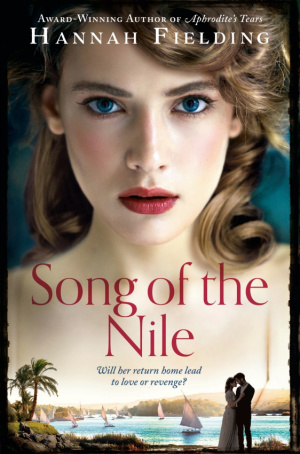 Song of the Nile: available to buy now
As if attending a royal ball weren't enough, Aida is also invited to a prestigious fashion show at Shepheard's Hotel. The man behind the show is Shams Sakr El Din, a Bedouin prince. He tells Aida:
'I own a chain of fashion boutiques in Cairo, Alexandria and Port Said. We sell haute couture clothes, mainly by Pierre Balmain, Worth and Schiaparelli. The items come to us directly from Paris and America. Our buyers have just returned from France, where they've secured some pieces by the new French designer Christian Dior for next year when he'll launch his latest collection.'
At the time, Christian Dior and Pierre Balmain were just establishing their fashion houses – which of course would go on to be wildly successful and popular with the rich and famous. Charles Worth, an Englishman who'd set up shop in Paris, was the father of haute couture and his fashion house been popular since the 1860s, when he became the official dressmaker of Empress Eugénie. The Italian designer Elsa Schiaparelli meanwhile, rival of Coco Chanel, had been a prominent figure in fashion between the world wars and had especially drawn attention for her collaborations with the Surrealist artist Dalí.
When Prince Shams Sakr El Din invites Aida to view Dior's 'New Look' collection ('a revolution' according to the editor of Harper's Bazaar; see these photos of the collection), of course it is difficult for Aida to turn down an invitation to a fashion show – even if she feels uncomfortable with the prince's attention.
Eva Perón, First Lady of Argentina, wearing a custom Christian Dior gown, 1949 (source)
In the ballroom of the Shepheard's Hotel, which has been dressed to look like the desert, complete with palm trees and Nile catwalk, Aida sits among the haut monde, men and women attired in the most elegant clothes. As the musicians of the Cairo Philharmonic Orchestra tune their instruments, she chats with her friend. 'Tonight will be quite a treat after the drudgery of the war years,' she tells her. 'I missed wearing lovely clothes. I spent most of my time either in nurse's uniform or practical slacks.' Aida herself has dressed with great care for the occasion:
Cleo had shown her the Grecian-style dress at Shemla and she had been attracted by its simple lines. The plunging V-neckline bodice with thick straps embellished with sparkling ton sur ton rhinestone jewels showed off enough cleavage to look sexy without being daring. Ruched to the waist and cinched with a glittering belt, its full-length skirt fell to the ground in shimmering layers of champagne silk chiffon. The gown gave her an ethereal silhouette, and as she walked, every delicate bone in her body made itself known, every beautiful line visible.
And then… the show begins, model after model wearing the most exquisite fashions: dresses in silk tulle, velvet and chiffon; detailing of pearls, beads, sequins; rich colours and sexy silhouettes – these are the designs that show off Paris's corseted, full-bosomed and hourglass New Look. I write:
After the deprivations of the war, it was clear that French designers wanted to restore fantasy and luxury to women's wardrobes… All the dresses of the collection had one thing in common: a fragile effect that merged Second Empire romanticism with the classical iconography of ideal and eternal beauty.
I confess, I had a wonderful time researching 1940s fashion for Song of the Nile. Oh, to go out for an evening in that bygone time of chic glamour – très magnifique!